We are closed to online orders until our new season begins in November
Call us at 1-844-873-3700 to discuss your project or
Subscribe to our email list to be notified when the season begins
American Mountain Ash
American Mountain Ash
Sorbus americana
SOLD OUT
American Mountain Ash is an attractive medium-sized tree.

Its beautiful clusters of white flowers bloom in late-spring, making it an ideal ornamental tree for residential lots.

American Mountain Ash's decorative bright orange berries stay on the tree throughout the winter. Birds and smaller wildlife will love this feature as much as you will.


UNAVAILABLE STOCK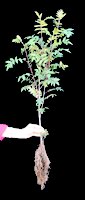 American Mountain Ash - 2 Year Old
These seedlings are greenhouse grown peat plugs transplanted to our bareroot fields for a second growing season. Better branched with greater root mass than container seedlings.



Heights are quite variable



Stock Type: Bareroot.
Age: 2 year (P+1)
Size: 20-43cm (8-17")
YOU MIGHT ALSO BE INTERESTED IN...