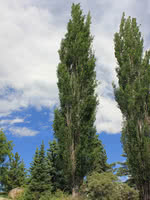 Swedish Aspen
SOLD OUT
Swedish Aspen is an extremely fast growing columnar aspen tree. It's ideally suited for urban settings where space is limited such as privacy screens or along the edges of driveways. Swedish aspen produces no fluff and is less prone to suckering than tower poplar...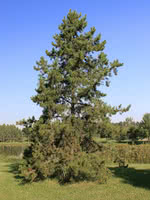 Lodgepole Pine
SOLD OUT
Lodgepole pine is well suited to western Canada's climate and growing conditions. This native pine noted for its rapid growth among evergreen. And as one of Canada's hardiest conifers, it can tolerate cold, shade, drought, and poor soil conditions...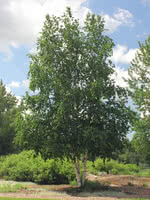 White Birch (Paper Birch)
SOLD OUT
White Birch is a large, attractive deciduous tree. This fast-growing, cold hardy species has distinctive white papery bark that peels in layers, making it a beautiful ornamental or accent tree. White Birch also makes great firewood...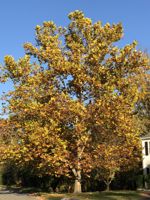 American Sycamore
SOLD OUT
American Sycamore is the largest tree native to eastern North America. Generally too large and messy to be a street tree, American Sycamore thrives in large, open spaces, such as an acreage or farm. The bark is one of the main features that draw people to this...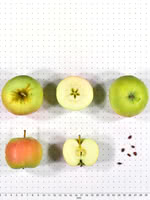 Antonovka Apple
SOLD OUT
Originally created in Russia, this apple tree is incredibly cold hardy and commonly used as a root stock for other apple breeds. Cross pollination is required with another apple, pear or crabapple tree in order for fruit to be produced. Generally, fruit...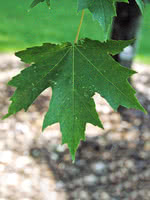 Armstrong Maple
SOLD OUT
The Armstrong Maple has a narrow, upright columnar growth habit. This stunning tree has showy leaves that range from yellow, orange to red in the fall. It is an attractive hybrid of the Red Maple and Silver Maple. It prefers acidic soils and will have some...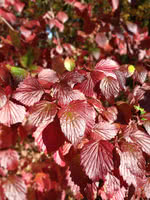 Arrowwood
SOLD OUT
Arrowwood is a cold hardy, reliable, and vigorous shrub that can easily grow on difficult sites. Featuring an upright, rounded, and multi-stemmed form, this shrub produces creamy white flowers against a backdrop of deep green, serrated foliage. The flowers give...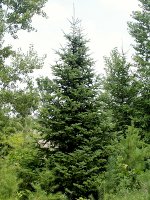 Balsam Fir
SOLD OUT
Balsam Fir - best known as a "Christmas tree" - doesn't just look great in living rooms; it's a terrific tree for your yard too! This fir grows tall and narrow. Balsam Fir is cold hardy, shade tolerant, and will thrive in most soil types and moisture levels...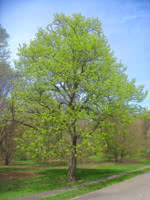 Basswood (American Linden)
SOLD OUT
Basswood, also known as American Linden, provides shade and fragrant flowers with characteristically attractive leaves and branching. It typically has a large uniformly round crown with a straight branch free trunk. Basswood is typically found along streams...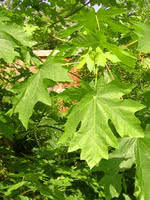 Big Leaf Maple
ONLY AVAILABLE BY CONTRACT GROW
Big Leaf Maple has a broad, rounded crown and the largest leaves of all the maples. The pleasant shape and large leaves make this maple a striking and attractive tree. In autumn, the leaves turn vibrant shades of gold and orange. Big Leaf Maple is a soil...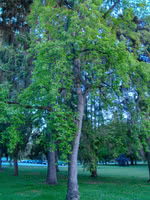 Black Cherry
SOLD OUT
Black Cherry is common in eastern North America but a rare find elsewhere. This tree is shade tolerant and is often found in old fields, forest openings, and along fencerows. The fruit is edible and is commonly used to flavor rum and brandy. It is also edible...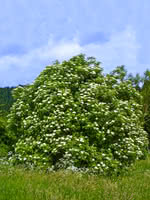 Black Elderberry
SOLD OUT
Black Elderberry is a deciduous shrub native to eastern North America. You can plant this shrub in moist areas and it will help stabilize your soil. You can also use it on rural properties anywhere you'd use a lilac. Warning: the seeds, stems, leaves, roots...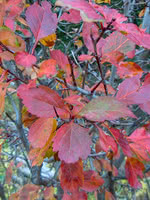 Black Hawthorn
SOLD OUT
Black Hawthorn is a versatile plant that is native to wetlands and other areas with moist soils, but can also tolerate dry soils. This plant can be grown as a short shrub, or a tree reaching 30 feet tall. Black Hawthorn is valued for erosion control and...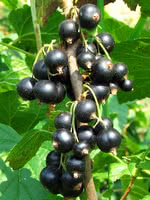 Blackcurrant
SOLD OUT
Blackcurrant is a medium-sized shrub producing delicious, deep purple to black sweet berries suitable for jams, jellies, syrups and cordial. Our Blackcurrant is grown from seed from the "Ben" series of Blackcurrant cultivars, developed by the Mylnefield Research...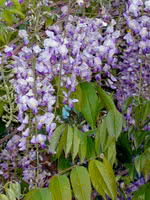 Blue Moon Wisteria
SOLD OUT
Blue Moon Wisteria is a striking, flowering vine, and the hardiest of the wisterias. Up to three times in one growing season you can expect showy, fragrant, lavender-blue flowers. Make sure you plan your site as this vine requires a structure to support its...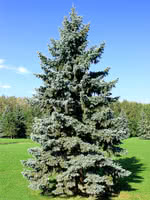 Blue Spruce (Colorado Spruce)
SOLD OUT
Blue Spruce, also known as Colorado Spruce, is our best selling tree! People are attracted to the distinctive blue-green color of this hardy evergreen. But Blue Spruce really stands out because it is tough, long lived, and adapted to a wide range of growing... Blue Treasure Haskap (Honeyberry)
SOLD OUT
Blue Treasure Haskap is a late season cultivar, ideal for cooler climates, and a favorite from Berries Unlimited. The berries are delectably sweet and ideal for fresh eating, but can also be made into jam, juice, and wine. Blue Treasure is a late pollinating...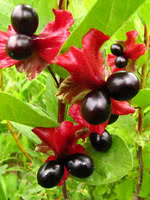 Bracted Honeysuckle
SOLD OUT
Bracted Honeysuckle is a shade loving shrub that is distinguishable from other honeysuckles by its square stem and pointed leaves. Native to most of North America, this honeysuckle is found along swamps, rivers, riparian zones and moist wooded areas. If you have...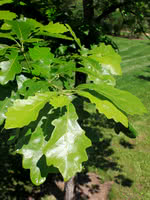 Bur Oak
SOLD OUT
Bur Oak has a wide distribution but is one of the only oaks that will grow well on the prairies. Bur Oak produces deeply lobed, dark green leaves that turn golden yellow to brown in the fall. Its acorns are round and half enclosed by a mossy fringed cup...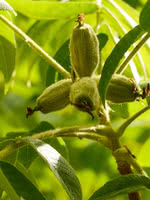 Butternut
SOLD OUT
Butternut is one of the few walnut varieties native to Canada. The nuts are sought after for their mild, sweet, and oily taste. Ensure this tree is planted in full sun and well-drained soil for best results. Butternut is self-fertile but it has better yields...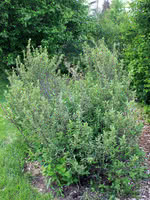 Canadian Buffaloberry
SOLD OUT
Canadian Buffalo Berry is a native deciduous shrub found throughout North America. This hardy, medium-sized shrub will tolerate poor soil conditions and produces attractive, edible–though very bitter–red fruit...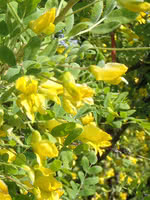 Common Caragana
SOLD OUT
Common Caragana is a fast growing shrub that's known for its exceptional hardiness and drought tolerance. Although it's most commonly planted in shelterbelts, Common Caragana is also an excellent hedge or feature shrub. Note: in warmer areas, this species can be...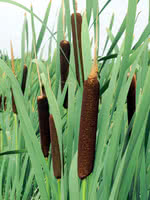 Common Cattail
ONLY AVAILABLE BY CONTRACT GROW
Cattail is found all across North America, growing next to water. Like other waterside plants, Cattail provides erosion control and forage for animals. It is suitable for land reclamation. Cattail is able to tolerate cold weather and occasional...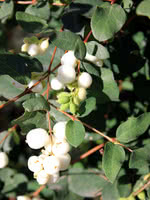 Common Snowberry
SOLD OUT
Common Snowberry is a small deciduous shrub with characteristic white to pink flowers and clusters of white fruit. This North American native species is very adaptable, and can be used for erosion control in riparian and restoration areas. Snowberry's fruit...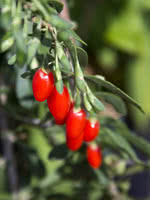 Dynamite Goji Berry
SOLD OUT
The Dynamite Goji Berry is a thornless cultivar of the Goji Berry known for its hearty, brilliant-red berries. This deciduous perennial produces white/lavender flowers that bloom from June through September, with fruit maturation taking place between August and...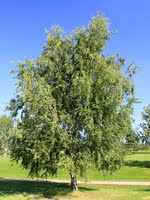 European White Birch
SOLD OUT
European White Birch is a mid-sized shade tree native to Eurasia. This deciduous tree has a pyramidal form when young, maturing into a rounded crown with arched branches and drooping branchlets. The trunk is slender, with white bark featuring black...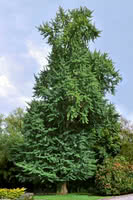 Ginkgo Biloba
SOLD OUT
The Ginkgo Biloba is regarded as one of the most distinctive and beautiful of all the deciduous trees, and has remained genetically unchanged for millions of years. Its beautifully fan-shaped leaves develop a clear yellow colour in fall. Graceful and attractive...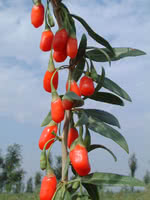 Goji Berry
SOLD OUT
Goji Berry is a woody, deciduous perennial known for its hearty, bright orange-red berries. It typically produces light lavender flowers from June through September, with fruit maturation taking place between August and October. Goji Berry berries are...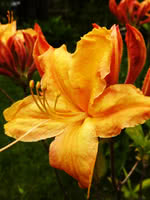 Golden Lights Rhododendron (Azalea)
SOLD OUT
Golden Lights Rhododendron is an exceptionally cold hardy, deciduous azalea. Part of the Northern Lights Series, this shrub was cultivated specifically to withstand harsh winters, making it ideal for our prairie climate. In late spring you'll be drawn to its...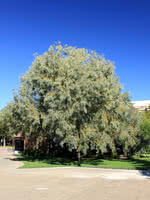 Golden Willow
SOLD OUT
Golden Willow is an attractive accent tree that's perfectly suited for those moist or wet areas on your property. This fast growing tree has glossy narrow leaves that turn gold in fall, furrowed brown bark and showy gold branches that especially stand out in...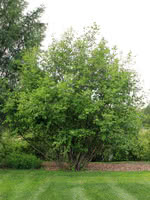 Green Alder
SOLD OUT
Green Alder is a cold hardy, native shrub. It is often planted on infertile sites so it can fix nitrogen from the air and improve the soil quality. Green Alder is known for its smooth grey bark and attractive shiny green leaves; it is commonly used in...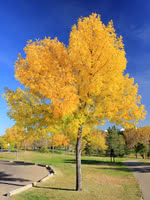 Green Ash
SOLD OUT
Green ash is a fast growing tree with incredible golden yellow leaves in fall. This tree is native to the prairies and is well suited for drought and cold. Green ash can also tolerate soil compaction, periods of flooding and a wide variety of soils including...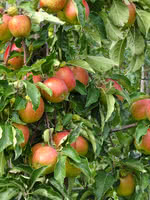 Harcourt Apple
SOLD OUT
The Harcourt apple is a cold hardy apple produced by the University of Alberta. The fruit is good for fresh eating or backing, and ripens in late August...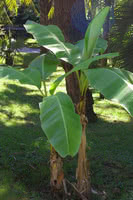 Hardy Banana
ONLY AVAILABLE BY CONTRACT GROW
The Hardy Banana is a fast-growing evergreen perennial that dies down to the ground each year. A stunning tropical-looking accent for your yard and patio, the Japanese Fiber Banana can be overwintered outdoors in several northern U.S. states and southern Canadian...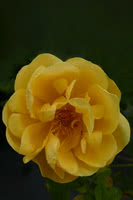 Hazeldean Rose
SOLD OUT
Hazeldean Rose is a perfect shrub for those who enjoy cut flowers. It blooms vigorously in late spring to early summer and is smothered in fragrant yellow double blooms that attract bees. The Hazeldean Rose is extremely cold weather hardy, making it a rare yellow...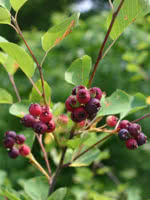 Honeywood Saskatoon
SOLD OUT
Honeywood Saskatoon, also known as Service Berries, is excellent at producing an abundance of blue-coloured berries in mid-summer and has dark green foliage that turns yellow in the fall. It is quite large making it a perfect shrub in your backyard garden. Often...
Horse Chestnut
ONLY AVAILABLE BY CONTRACT GROW
Horse Chestnut is a medium sized deciduous tree that is native to Greece but has been grown in North America for hundreds of years. It produces large nuts. A top CO2 absorbing species. Experts think this tree may help climate change more than others...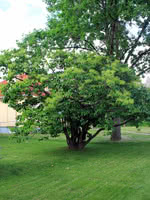 Japanese Tree Lilac
SOLD OUT
Japanese Tree Lilac is an attractive, heavy-flowering lilac with fragrant white blossoms. It can be pruned to a single stem or grown as a multi-stemmed shrub. Japanese Tree Lilac's dark reddish-brown bark peels as the tree ages, creating visual appeal for any...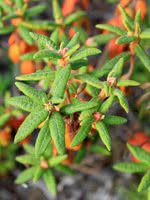 Labrador Tea
SOLD OUT
Labrador Tea is slow-growing evergreen shrub native to the boreal forests of Canada. It thrives in wet, swampy conditions. Labrador Tea has narrow, leathery, dark green leaves, topped by a cluster of white flowers in the spring. It is a perfect ornamental...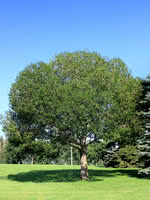 Laurel Leaf Willow
SOLD OUT
Laurel Leaf Willow is a round-shaped tree with attractive dark green leaves. This cold hardy tree can withstand bitter winters and still put on lots of growth every summer. Laurel Leaf Willow prefers moist to wet ground and full sun, though it can tolerate...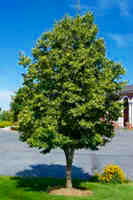 Little Leaf Linden
SOLD OUT
Little Leaf Linden is a large, deciduous shade tree that is native to Europe. The leaves are heart shaped with fine teeth on the margins. It has much smaller leaves than Large Leaf Linden. Its small, fragrant yellow-green flowers are said to have medicinal...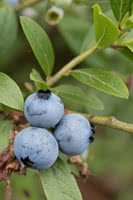 Lowbush Blueberry
SOLD OUT
Lowbush Blueberry, commonly known as the Wild Lowbush Blueberry, is often wild-harvested and thrives in low pH acidic soil. This early low-bush blueberry produces white and pink bell-shaped flowers in the spring. Its fruit is smaller in size than high bush...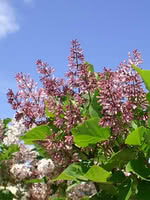 Manchurian Lilac (Korean Lilac)
SOLD OUT
Manchurian Lilac (aka Korean Lilac) is a medium-sized shrub that features fragrant clusters of pale purple flowers in late spring. Manchurian Lilac is less affected by disease than other lilacs and will create a beautiful border, hedge, or privacy screen. If...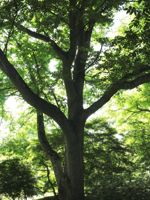 Manchurian Walnut
SOLD OUT
Manchurian Walnut is a large, broad and often multi-stemmed tree with ornamental qualities. This tree produces large, thick-shelled nuts that ripen in the fall. These edible walnuts are reportedly difficult to crack open. They are useful for attracting wildlife...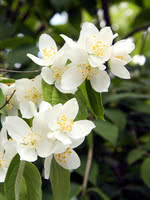 Mock Orange
SOLD OUT
Mock Orange's white flowers look and smell like those of the orange, with a hint of jasmine in the scent. It is an excellent ornamental shrub. People love the contrast between its flowers and dark green leaves. Mock Orange is suitable for planting alone or in...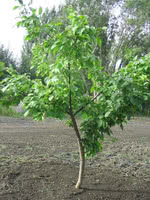 Mustang Cherry Plum
SOLD OUT
Mustang Cherry Plum is a cherry-plum hybrid. You'll enjoy its fragrant white flowers in spring and sweet fruit in late August. Mustang Cherry Plums are about one inch diameter and they have a strong cherry taste. This plant is small enough to fit in moderately...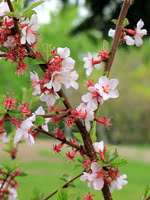 Nanking Cherry
SOLD OUT
Nanking Cherry is a small deciduous shrub known for its attractive white blossoms and edible fruit. Its dark red berries are excellent for pies, jellies, and even fresh eating. Nanking Cherry is highly regarded as a shade tolerant fruit. We often see it planted...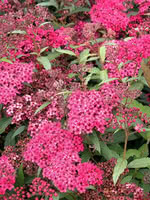 Neon Flash Spiraea
SOLD OUT
Neon Flash Spiraea is a colorful, low maintenance, and multi-purpose shrub. Late spring to fall you'll be drawn to its vibrant neon red blooms that rest on a neat mound of green foliage. If deer and rabbit are an issue on your property, consider planting Neon...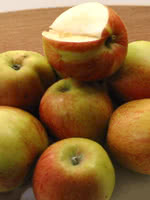 Norkent Apple
SOLD OUT
Norkent Apple produces fruit that is desirable for fresh eating. The apples most closely resemble Golden Delicious in appearance and taste. Our stock is grafted onto rootstock for better planting. If you want a great prairie hardy apple for eating, cooking, juicing...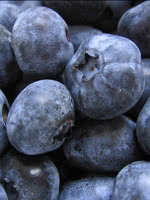 Northblue Blueberry
SOLD OUT
Northblue Blueberry produces the best tasting of the half-high blueberries we carry. It's a cross between a highbush and a lowbush variety, which makes it suitable for smaller yards. For its size, Northblue Blueberry produces abundant quantities of large, firm...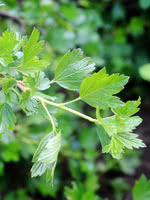 Northern Gooseberry
SOLD OUT
Northern Gooseberry is a small, ornamental quality native shrub with prickly stems. You can plant it anywhere you'd plant Prickly Rose or Common Wild Rose, such as your yard. Most people find Northern Gooseberry berries a bit tart for significant fresh eating...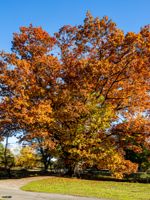 Northern Red Oak
SOLD OUT
Northern Red Oak is a medium-sized deciduous tree. It is fast-growing (for an oak tree) and is used primarily in lawns, parks, golf courses, street-side plantings, and commercial areas. Northern Red Oak's fall color is spectacular. In open spaces, it has a...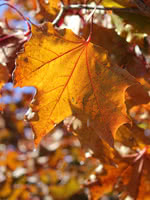 Norway Maple
ONLY AVAILABLE BY CONTRACT GROW
Norway Maple is a tolerant and adaptable shade tree. This is probably why it is the most popularly planted boulevard tree in North America. Note: Norway Maple will sucker with age. It's also not a good idea to plant it under power lines...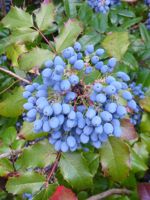 Oregon Grape
SOLD OUT
Oregon Grape is an evergreen shrub native to North America, found along the Pacific coast. In spring, the bright golden-yellow flowers appear in clusters above the leaves. These flowers eventually give way to edible blue berries in late summer. While not a true...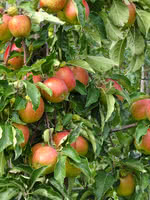 Parkland Apple
SOLD OUT
Parkland Apple is an extremely hardy, medium sized apple tree The apples have excellent reviews, they are juicy, crisp, and slightly tart. Apples will be ready to harvest in July-August and will produce apples which are yellow and green with a red blush...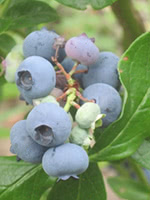 Patriot Blueberry
SOLD OUT
The Patriot Blueberry offers the largest fruit of all the early season blueberries and thrives in an acidic soil with a low pH. With fruit that can easily grow to the size of a quarter, you'll be known for having the largest blueberries for miles. The Patriot...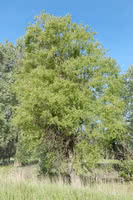 Peachleaf Willow
SOLD OUT
The Peachleaf Willow is often a multi-stemmed willow that generally grows into a tall shrub. This versatile and useful small tree is often seen in riparian zones and erosion control projects. Wildlife rely on the twigs, foliage and bark for food. A widely...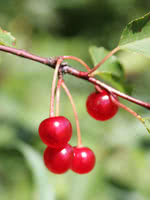 Pin Cherry
SOLD OUT
Pin Cherry is a small tree that produces clusters of white blossoms in spring followed by bright red berries that ripen through the summer. The attractive red color of the leaves in the fall is an added bonus. The fruit is quite sour when eaten fresh but is...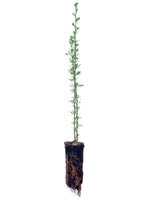 Pygmy Caragana
ONLY AVAILABLE BY CONTRACT GROW
Pygmy Caragana is a shrub that is related to Common Caragana and has a compact size that is suitable for yards with limited space. Its size is perfect for landscaping and decorative hedges, and requires little maintenance. This nitrogen fixer has fine-textured...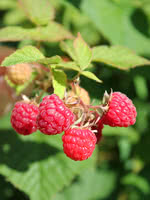 Red Bounty Raspberry
SOLD OUT
Red Bounty Raspberry is a hardy, self-fertile variety that produces large, red berries with great taste ideal for preserves, jam, and fresh eating. Red Bounty Raspberry stands on its own - no trellis required. The Red Bounty Raspberry is a fast-growing...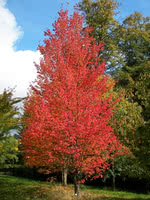 Red Maple
SOLD OUT
Red Maple is one of the most common and widespread maples in North America. Like its name suggests, Red Maples feature deep red flowers, twigs and seeds, which are especially beautiful in autumn. Red Maple is a great choice for parks and large gardens where...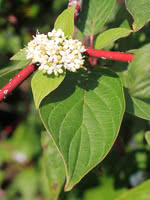 Red Osier Dogwood
SOLD OUT
Red Osier Dogwood is a small deciduous shrub that features deep red stems and twigs year-round, with creamy white flowers in the spring. This shrub will add a nice pop of color to your yard. Red Osier Dogwood is an excellent soil stabilizer. It is fast growing...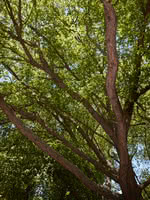 River Birch
SOLD OUT
River Birch has beautiful, peeling, brown bark that reveals camel-colored and pink beneath. It is more borer resistant than white bark birches, which makes it a much longer-lived landscape tree...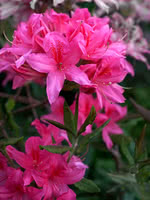 Rosy Lights Rhododendron (Azalea)
ONLY AVAILABLE BY CONTRACT GROW
Rosy Lights Rhododendron is the next flowering, deciduous shrub you need in your garden. It is incredibly cold hardy and produces fragrant, bright pink blooms in late spring. Pruning is recommended after the flowers are finished to control the size and shape of...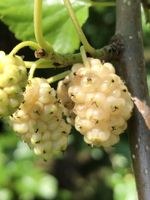 Russian White Mulberry
SOLD OUT
Russian White Mulberry is a cold hardy and adaptable tree. It is a great choice for the impatient gardener as it reaches its mature height in a short period of time and has an attractive, dense, and rounded form. Odd looking berries are produced among a backdrop...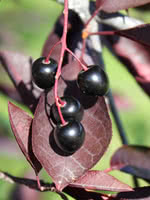 Schubert Chokecherry
SOLD OUT
Schubert Chokecherry is similar to a western chokecherry but features beautiful purple-red leaves throughout the summer. This small, flowering tree is perfectly suited as an ornamental for city yards. The fruit from this tree is a staff favourite for jams...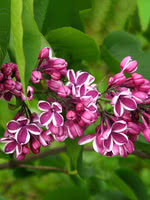 Sensation Lilac
SOLD OUT
Sensation Lilac is an outstanding shrub known for its fragrant, bicolor flowers. In mid-spring, stunning purple flowers with white borders emerge and cover the entire plant. Once the flowers bloom, they give off a beautifully sweet scent that is enjoyed by...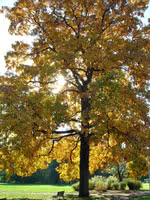 Shagbark Hickory
SOLD OUT
Shagbark Hickory is a unique tree both for its looks and uses. Its bark peels into long thin vertical strips giving it a shaggy appearance. This and its golden fall leaves make it a gorgeous looking tree. This species produces tasty hickory nuts once mature...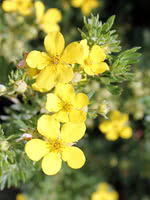 Shrubby Cinquefoil (Potentilla)
SOLD OUT
Shrubby Cinquefoil is a small, deciduous flowering shrub. This hardy species is densely covered with leaves and produces pale to bright yellow buttercup-shaped flowers terminally on the stems. Flowering typically occurs from early to late summer. Shrubby...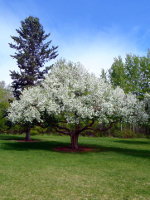 Siberian Crab Apple
SOLD OUT
Siberian Crab Apple is a beautiful, cold hardy, ornamental tree. Its stunning white blossoms burst in the spring to produce deep red fruit. If you are looking for a great landscape or shade tree, Siberian Crab Apple is a beautiful addition to any yard. As a...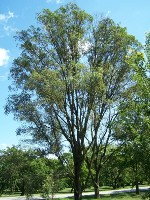 Siberian Elm
ONLY AVAILABLE BY CONTRACT GROW
Siberian Elm is a small to medium-sized deciduous tree. It has a similar form to American Elm, but smaller, with a more pyramidal habit and shorter lifespan. It is also more resistant to Dutch Elm disease and is very salt tolerant. Siberian Elm was grown as...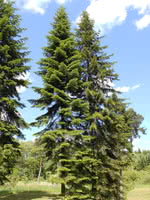 Siberian Fir
SOLD OUT
Siberian Fir is an evergreen tree best known for its strong aroma. This tree's needles are popular for essential oils and aromatherapy. It also grows softwood that is used for furniture and wood pulp. This species is very cold hardy and shade tolerant. This...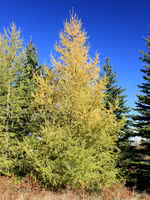 Siberian Larch
SOLD OUT
Siberian Larch is a large, cold hardy conifer. Like the Tamarack, its needles turn golden yellow and drop in the fall, and it is able to handle saturated soils. If you are looking for a long-lived tree for your large property or shelterbelt with quite wet soil...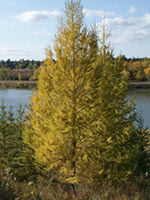 Siberian Larch Oasis
SOLD OUT
The Siberian Larch 'Oasis' is perfect for shade in the summer and sunlight in the winter as it drops its needles in the fall. A dense deciduous conifer tree with an attractive oval shape and a strong central leader, this larch is perfect in a shelterbelt for...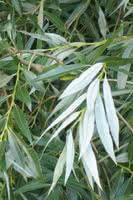 Silver Leaf Willow
SOLD OUT
Native to North America, Silver Leaf Willow has orangish bark and long, silvery grey leaves. Bees and other insects are attracted to its flowers. Popular as an ornamental tree for parks, it is also used as a shelterbelt species. It may not be as cold hardy as...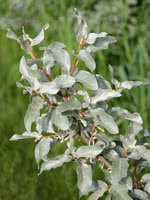 Silverberry (Wolf Willow)
SOLD OUT
Silverberry (also known as Wolf Willow) is a common native North American shrub. This beautiful ornamental plant has characteristic silver leaves and fragrant yellow flowers. Its silver berries remain on the branches through the winter. Silverberry is cold...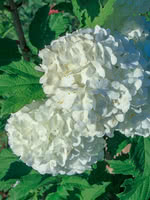 Snowball Viburnum
SOLD OUT
Snowball Viburnum is a popular ornamental shrub with prolific flowering. This plant is prized for its round clusters of white flowers that resemble snowballs, delighting children and adults. In fall, its leaves turn vibrant shades of red. Snowball Viburnum is...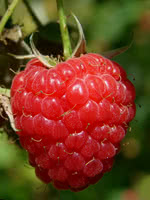 Souris Raspberry (an improved Boyne Raspberry)
SOLD OUT
Souris is an improved version of Boyne, the classic prairie raspberry. It is planted all across Canada and is extremely robust. Where other raspberry cultivars rely on unique selling points and specializations, Souris is just generally a great raspberry. Souris...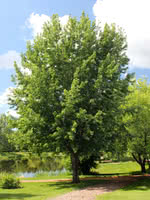 Sugar Maple (Hard Maple)
SOLD OUT
Sugar Maple is a large, deciduous tree known for its brilliant fall yellow, orange, and red-orange color display. This long-lived shade tree features unique "maple" lobed leaves. Note: this Zone 4 tree is unlikely to produce commercially viable sap on the...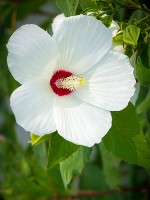 Swamp Rose Mallow (Hibiscus)
SOLD OUT
Swamp Rose Mallow (Hibiscus) has large white-pink showy flowers which attract hummingbirds and pollinators to your yard. It is a tall, fast growing perennial shrub. The flowers typically only last 1-2 days, but the plant will continue to rebloom throughout the...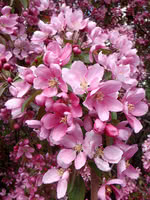 Thunderchild Flowering Crab
SOLD OUT
Thunderchild Flowering Crab is a hybrid crab apple known for its attractive and fragrant dark pink blossoms and deep purple mature leaves. Tree farmers will find this hybrid appealing as a pollinator for other apples, while home growers will enjoy the red...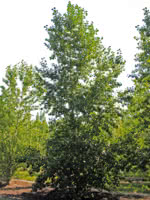 Tristis Poplar
SOLD OUT
Tristis Poplar is a large deciduous tree. It is cold hardy, disease resistant, and relatively drought tolerant. Tristis Poplar loses its leaves later in the year than other Poplars, making it a great ornamental tree in fall. It's known for its strongly scented...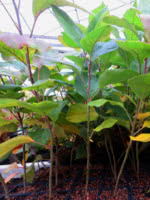 V3 Apple Rootstock
SOLD OUT
The V3 or Vineland 3 Apple is a favorite of many farmers. This plant is an excellent dwarfing rootstock for grafting other apple species to. It is cold hardy and resistant to fire blight. This tree performs best with staking and regular watering. This tree...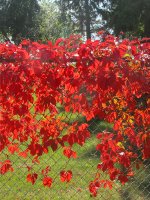 Virginia Creeper
SOLD OUT
Virginia Creeper is a fast-growing, climbing vine. Its root-like tendrils attach themselves to any non-smooth surface, even brick, but will also grow as a ground cover. Virginia Creeper makes a beautiful ornamental plant for your garden; its attractive foliage...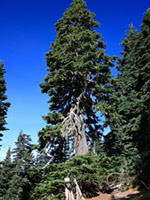 Western Red Cedar
SOLD OUT
Western Red Cedar is native to the Pacific Northwest, and is the largest tree in the cypress family. Featuring horizontal branching with scale-like dark green foliage that has a strong aroma. The wood is naturally durable and light, and is resistant to decay and...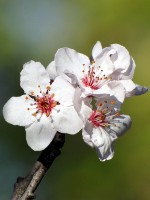 Western Sand Cherry
SOLD OUT
Western Sand Cherry is known for its unique, leathery grey-green foliage and beautiful white blossoms. It is a popular ornamental shrub in parks and front yards. Both you and the wildlife will love its edible small dark red to purple cherries. Due to its small...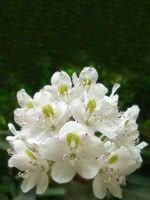 White Lights Rhododendron (Azalea)
ONLY AVAILABLE BY CONTRACT GROW
White Lights Rhododendron is part of the Northern Lights Series, cold hardy, and deciduous. In late spring you'll be drawn to its fragrant white blooms. In fall, the foliage turns a beautiful purple-bronze color. Pruning is recommended after the flowers are spent...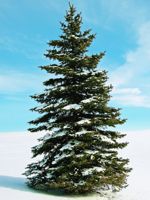 White Spruce
SOLD OUT
White Spruce is a hardy, long-lived evergreen tree. It can grow in many soil types and moisture levels. And it can even tolerate significant amounts of shade. White spruce requires little maintenance and is well suited for use in shelterbelts, privacy screens...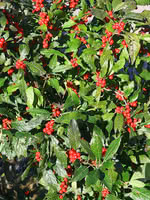 Winterberry
ONLY AVAILABLE BY CONTRACT GROW
Winterberry is a small shrub that produces large quantities of bright red berries that remain on the plant through the fall and into the winter. Adding this shrub to your yard will give it a unique splash of color and attract birds, especially after the leaves...