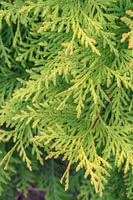 Amber Gold Arborvitae (Cedar)
SOLD OUT
The Amber Gold Arborvitae is a cultivar of the Eastern White Cedar that has high ornamental value. Its scale-like foliage emerges yellow, darkens to green in summer, then turns an attractive orange-gold. This tree is an effective privacy screen even in winter and...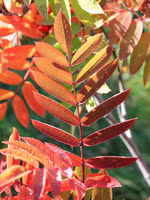 American Mountain Ash
SOLD OUT
American Mountain Ash is an attractive medium-sized tree. Its beautiful clusters of white flowers bloom in late-spring, making it an ideal ornamental tree for residential lots. American Mountain Ash's decorative bright orange berries stay on the tree...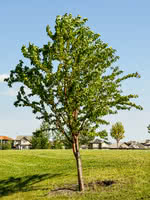 Amur Cherry
SOLD OUT
Amur Cherry is a beautiful, fast-growing ornamental tree. It features attractive bronze/red bark that peels horizontally in strips. This hardy tree bears white flowers in the spring, black fruit held in clusters in the late summer, and pointy leaves that turn...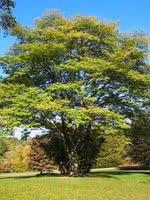 Amur Maackia
ONLY AVAILABLE BY CONTRACT GROW
Amur Maackia is a robust and pretty tree often used for urban decoration and landscaping. This tree has coppery peeling bark that can sometimes resemble lace. Its upright clusters of small white flowers usually bloom in midsummer. Amur Maackia's Small size makes it...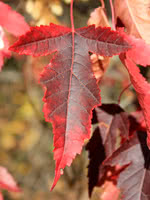 Amur Maple
SOLD OUT
Amur Maple is an incredibly colorful tree. As summer turns to fall, it's bright green leaves turn fiery red. This tree is perfectly suited for urban environments. It's small size allows you to plant it in city yards and beneath power lines. Amur maple can also...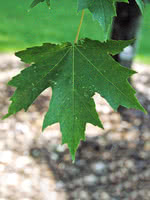 Armstrong Maple
SOLD OUT
The Armstrong Maple has a narrow, upright columnar growth habit. This stunning tree has showy leaves that range from yellow, orange to red in the fall. It is an attractive hybrid of the Red Maple and Silver Maple. It prefers acidic soils and will have some...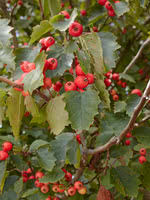 Arnold Hawthorn
SOLD OUT
Arnold Hawthorn is a low-branched tree favored by wildlife and landscapers. This tree's beautiful white flowers and bright red berries make it an attractive ornamental in anyone's yard. Arnold Hawthorn is also used in windbreaks and riparian planting. Despite...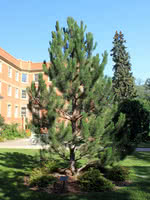 Austrian Pine
SOLD OUT
Austrian Pine is a medium-sized evergreen known for its dense rounded crown and long needles. This moderately fast growing tree adds year-round colour to your yard and tends to be resistant the effects of snow, ice, and pollution...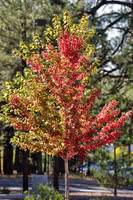 Autumn Blaze Maple
SOLD OUT
Autumn Blaze Maple is a striking maple variety. It is a hybrid between Silver and Red Maple with the preferred qualities of each: the fast growing nature of Silver Maple combined with the brilliant fall color and strength of Red Maple. Autumn Blaze Maple even...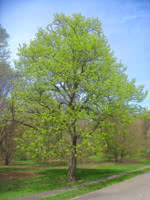 Basswood (American Linden)
SOLD OUT
Basswood, also known as American Linden, provides shade and fragrant flowers with characteristically attractive leaves and branching. It typically has a large uniformly round crown with a straight branch free trunk. Basswood is typically found along streams...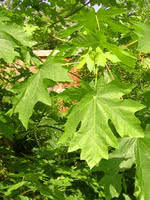 Big Leaf Maple
ONLY AVAILABLE BY CONTRACT GROW
Big Leaf Maple has a broad, rounded crown and the largest leaves of all the maples. The pleasant shape and large leaves make this maple a striking and attractive tree. In autumn, the leaves turn vibrant shades of gold and orange. Big Leaf Maple is a soil...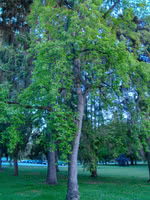 Black Cherry
SOLD OUT
Black Cherry is common in eastern North America but a rare find elsewhere. This tree is shade tolerant and is often found in old fields, forest openings, and along fencerows. The fruit is edible and is commonly used to flavor rum and brandy. It is also edible...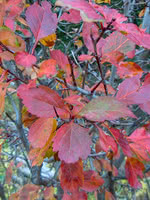 Black Hawthorn
SOLD OUT
Black Hawthorn is a versatile plant that is native to wetlands and other areas with moist soils, but can also tolerate dry soils. This plant can be grown as a short shrub, or a tree reaching 30 feet tall. Black Hawthorn is valued for erosion control and... Blue Spruce Iseli Fastigiate (Columnar)
SOLD OUT
Iseli Fastigiate Blue Spruce is perfect if you are looking for colour all year. A cultivar of the Blue Spruce, it is also known as the Columnar Colorado Blue Spruce. The Iseli Fastigiate Blue Spruce is one of the more distinctive evergreens. Its foliage is blueish...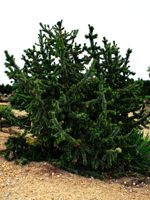 Bristlecone Pine
SOLD OUT
Bristlecone Pine is a small to medium evergreen with an irregular habit and contorted branches. This extremely long-lived tree is relatively low maintenance and drought-tolerant. It is known for its deep green to blue-green needles flecked with white resin...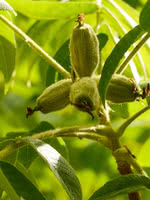 Butternut
SOLD OUT
Butternut is one of the few walnut varieties native to Canada. The nuts are sought after for their mild, sweet, and oily taste. Ensure this tree is planted in full sun and well-drained soil for best results. Butternut is self-fertile but it has better yields...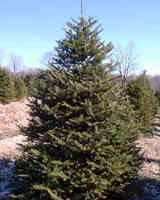 Canaan Fir
ONLY AVAILABLE BY CONTRACT GROW
Canaan Fir, which is closely related to Balsam Fir, is known for its open-growing patterns and strong branches. Canaan Fir is highly adaptable to many soil conditions and thrives in both shaded areas or direct sunlight. It is commonly used for Christmas tree...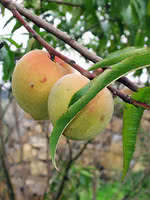 Chui Lum Tao (CLT) Peach
SOLD OUT
Chui Lum Tao Peach (CLT) is a very cold hardy peach cultivar. The taste and form of these peaches is reported to be similar to the other cold hardy peach varieties. The root system on this variety is known to be more vigorous than most peaches. This variety is...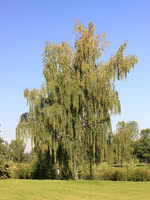 Cutleaf Weeping Birch
SOLD OUT
Cutleaf Weeping Birch is a tall, deciduous cultivar known for its pronounced weeping branches and ferny green leaves. It features showy, peeling white bark and brilliant yellow leaves in the fall. Cutleaf Weeping Birch makes an exceptional accent tree for...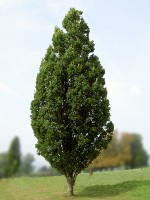 Cypress Oak
SOLD OUT
Cypress Oak is an upright, columnar tree that is well suited as a privacy screen or for lining paths and driveways. The upright branch angle causes it to have a narrower spread which makes it suitable for areas with limited space. It has been described as having an...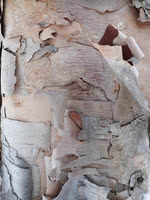 Dahurian Birch
ONLY AVAILABLE BY CONTRACT GROW
Dahurian Birch is a rare and interesting ornamental with curling bark. This tree is the first to sprout on bare land and is tolerant of dry, gravelly, and infertile soils. Dahurian Birch can grow in industrial areas or exposed land as long as it has full sunlight...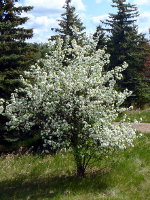 Dolgo Crab Apple
SOLD OUT
Dolgo Crab Apple is one of the hardiest species of crab apple. This fruit tree accent tree combination is commonly used in urban landscapes. Dolgo Crab Apple produces clusters of white flowers before its deep green foliage emerges. Its small apple-like...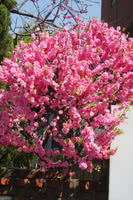 Double Flowering Plum
SOLD OUT
With the Double Flowering Plum in your garden, you'll be the envy of your block. Not only is it a stunning visual, but it is one of the earliest spring bloomers. With its gorgeous double pink blooms, this Plum is irresistible to birds, butterflies, and neighbours...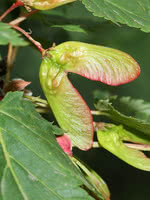 Douglas Maple
ONLY AVAILABLE BY CONTRACT GROW
Douglas Maple is a fast growing, long lived, ornamental tree. It can take on a shrubby or multi-stemmed form with densely packed leaves, making it an excellent tree for privacy screens and hedges. In the fall, the leaves make a brilliant change to red, orange...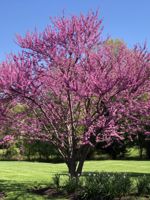 Eastern Redbud
SOLD OUT
The Eastern Redbud is known for the pea-like pink buds that emerge in clusters on the bark, embellishing the tree in stunning flowers. They have a longer bloom time, sometimes for two to three weeks before the heart-shaped leaves emerge for the summer. Inedible...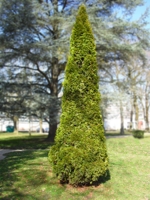 Emerald Cedar
SOLD OUT
Emerald Cedar makes a great addition to landscapes, and is often used to form tight hedges or privacy screens. The thick scale-like foliage adds texture and colour to yards and is commonly used to line driveways. Unlike other cedars it retains its green colour...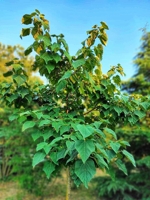 Empress Tree
SOLD OUT
The Empress Tree is a fast growing, ornamental shade tree. It has purple, fragrant flowers that are quite attractive. The flowers emerge before the leaves in early spring. The leaves of this tree can grow very large, up to 30 cm long. As one of the fastest...

European Mountain Ash
SOLD OUT
European Mountain Ash is an attractive, ornamental tree. This medium-sized tree produces tiny white-yellow flowers in the spring and decorative clusters of small red/orange berries in the summer. Its bitter fruit is often used to make Rowan Jelly, is a traditional...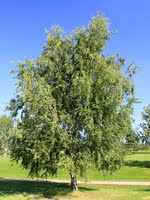 European White Birch
SOLD OUT
European White Birch is a mid-sized shade tree native to Eurasia. This deciduous tree has a pyramidal form when young, maturing into a rounded crown with arched branches and drooping branchlets. The trunk is slender, with white bark featuring black...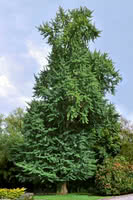 Ginkgo Biloba
SOLD OUT
The Ginkgo Biloba is regarded as one of the most distinctive and beautiful of all the deciduous trees, and has remained genetically unchanged for millions of years. Its beautifully fan-shaped leaves develop a clear yellow colour in fall. Graceful and attractive...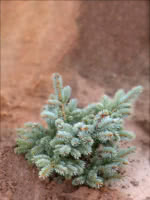 Globe Blue Spruce
SOLD OUT
The Globe Blue Spruce is a uniquely shaped evergreen shrub species, with a rounded and compact form. It has silvery-blue needles that can last all winter, which add to its ornamental value. The Globe Blue Spruce is a cultivar of the Blue Spruce and is...
Golden Weeping Willow
ONLY AVAILABLE BY CONTRACT GROW
The Golden Weeping Willow is a cultivar with bright yellow twigs and an attractive weeping shape. It is one of the most popular willows, with high ornamental value. The Golden Weeping Willow has glossy green foliage during the spring and summer months, then the...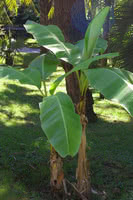 Hardy Banana
ONLY AVAILABLE BY CONTRACT GROW
The Hardy Banana is a fast-growing evergreen perennial that dies down to the ground each year. A stunning tropical-looking accent for your yard and patio, the Japanese Fiber Banana can be overwintered outdoors in several northern U.S. states and southern Canadian...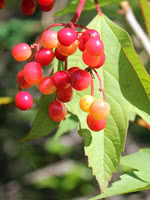 Highbush Cranberry
SOLD OUT
Highbush Cranberry produces attractive white flowers in late June and bears edible fruit that matures to a bright red colour in the late summer. This shrub, native to much of Canada, is fast growing, and its fruit can be eaten raw or cooked into a sauce...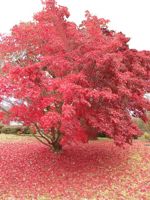 Japanese Maple
SOLD OUT
Japanese Maple is one of the most popular accent maples. Its long, fingered lobed leaves can be variegated in the summer with lighter shades of green, red, or even purple. Its autumn colour is a brilliant red that is uncommon in most plants, which adds nice...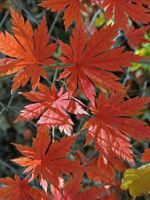 Korean Maple
SOLD OUT
The Korean Maple is an ideal accent tree, and is similar in size and shape to the Japanese Maple, but much hardier. The leaves have long, finger-like lobes that turn striking shades of yellow, orange and red in autumn. It is recommended that pruning be done...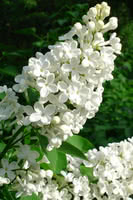 Madame Lemoine White Lilac
SOLD OUT
Madame Lemoine White Lilac is great for attracting butterflies and hummingbirds. Winner of the Garden Merit from the Royal Horticultural Society, the Madame Lemoine White Lilac has fragrant white flowers that are great for cutting and blue-green foliage that turns...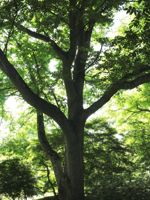 Manchurian Walnut
SOLD OUT
Manchurian Walnut is a large, broad and often multi-stemmed tree with ornamental qualities. This tree produces large, thick-shelled nuts that ripen in the fall. These edible walnuts are reportedly difficult to crack open. They are useful for attracting wildlife...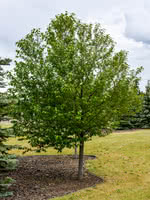 Mayday Cherry
SOLD OUT
Mayday Cherry is a small deciduous tree known for its early blooming and fragrant white flowers. A favourite specimen tree on prairie homesteads, Mayday Cherry produces small black berries that are inedible to people but highly desirable to birds... Medora Juniper
SOLD OUT
Medora Juniper has an upright, narrow growth habit that makes it well suited as either an accent shrub or as a privacy hedge or screen. It is a compact, pyramidal evergreen shrub with blue-green foliage that lasts year round. It is low maintenance, drought...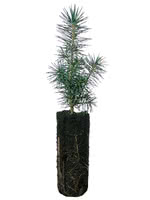 Meyers Spruce
SOLD OUT
Meyer's Spruce is a popular accent tree with a distinctive and refined pyramidal form. This tree resembles Blue Spruce with its flaking bark and bluish-green needles. Meyer's Spruce can tolerate very dry conditions. This species is deer resistant... Mountain Maple
ONLY AVAILABLE BY CONTRACT GROW
Used to growing in the shadows of the damp forest, White Maple (aka Mountain Maple) is a great fit for shady and wet areas, such as beneath larger trees. Unlike most of its cousins, the White Maple is a shrub instead of a tree. It's still a maple, however, with sap...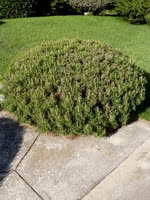 Mugo Pine
SOLD OUT
Mugo Pine is an extremely hardy, adaptable evergreen. This long-lived, slow-growing tree is relatively low maintenance, but prefers full sunlight. Mugo Pine is perfect for small city lots...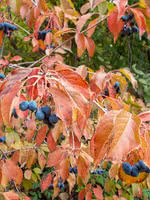 Nannyberry
SOLD OUT
Nannyberry is a hardy shrub known for attracting wildlife. Its clusters of white flowers and tasty berries are suitable for bees, birds, and other animals. Nannyberry is also used in urban yards and landscaping. This shrub makes a beautiful ornamental and is...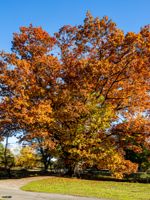 Northern Red Oak
SOLD OUT
Northern Red Oak is a medium-sized deciduous tree. It is fast-growing (for an oak tree) and is used primarily in lawns, parks, golf courses, street-side plantings, and commercial areas. Northern Red Oak's fall color is spectacular. In open spaces, it has a...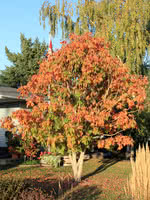 Ohio Buckeye
SOLD OUT
Ohio Buckeye is a medium sized deciduous tree. If you are looking for a shade tree, Ohio Buckeye's dense canopy of unique leaves can provide it. Named after its fruit, an inedible nut enclosed in a prickly husk, Ohio Buckeye also features green-yellow flowers...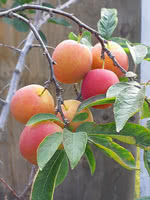 Patterson Pride Plum
SOLD OUT
Patterson Pride Plum is a fruit tree with weeping branches. This hybrid plant needs a wild plum tree for cross pollination before it can produce fruit. Patterson Pride's fruit is much larger and sweeter than other hardy plums, excellent for fresh eating, baking...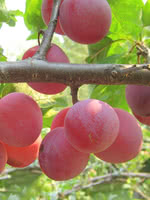 Pembina Plum
SOLD OUT
Pembina Plum is an upright tree great for backyards and rural areas. This hardy tree needs to be pollinated by a wild plum tree in order to produce high yields of fruit. We recommend pairing Pembina with Patterson Pride Plum as these varieties cross pollinate well...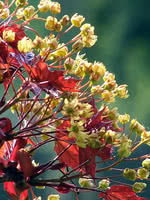 Prairie Splendor Norway Maple
SOLD OUT
Prairie Splendor Norway Maple has stunning burgundy to purple foliage in every season. It is an attractive, ornamental shade tree. Bright yellow flowers form along the branches in early spring before the leaves, It is relatively cold-hardy, but may need some...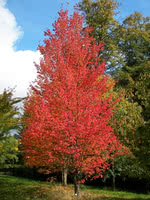 Red Maple
SOLD OUT
Red Maple is one of the most common and widespread maples in North America. Like its name suggests, Red Maples feature deep red flowers, twigs and seeds, which are especially beautiful in autumn. Red Maple is a great choice for parks and large gardens where...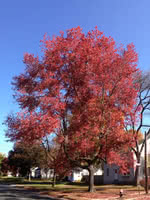 Red Sunset Maple
SOLD OUT
Red Sunset Maple is named for its stunning orange and red leaves in the fall. It is a fast growing cultivar of the Red Maple that is native to Eastern North America. The winter stems and spring flowers are also tinged with red color, making this tree attractive...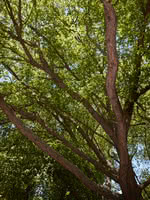 River Birch
SOLD OUT
River Birch has beautiful, peeling, brown bark that reveals camel-colored and pink beneath. It is more borer resistant than white bark birches, which makes it a much longer-lived landscape tree... Royal Frost Birch
SOLD OUT
Royal Frost Birch is a beautiful, cold hardy tree. It features burgundy-red-purple foliage, turning a showy yellow-orange-red in fall. The attractive white bark is striking on a winter landscape. Royal Frost Birch loves moisture. To meet this trees' moisture...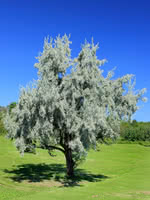 Russian Olive
SOLD OUT
Russian Olive is a medium-sized deciduous tree that has attractive silvery coloured foliage with small yellow flowers that emit a fragrant sweet smell. It is drought and salt tolerant, and works well as a shelterbelt species. Russian Olive can also be used to...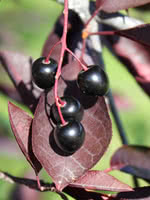 Schubert Chokecherry
SOLD OUT
Schubert Chokecherry is similar to a western chokecherry but features beautiful purple-red leaves throughout the summer. This small, flowering tree is perfectly suited as an ornamental for city yards. The fruit from this tree is a staff favourite for jams...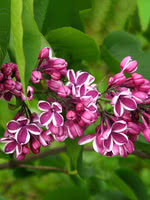 Sensation Lilac
SOLD OUT
Sensation Lilac is an outstanding shrub known for its fragrant, bicolor flowers. In mid-spring, stunning purple flowers with white borders emerge and cover the entire plant. Once the flowers bloom, they give off a beautifully sweet scent that is enjoyed by...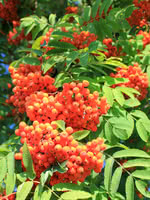 Showy Mountain Ash
SOLD OUT
Showy Mountain Ash is a hardy accent tree. It features pretty clusters of white flowers in spring followed by bright scarlet berries lasting into winter. Great for small landscapes, Showy Mountain Ash is adaptable to both dry and moist locations, and it is...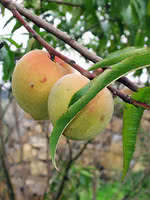 Siberian C Peach
SOLD OUT
The Siberian C Peach is a cold hardy peach cultivar, and the fruit is great for producing juice and fresh eating. This variety is native to the Gobi desert area of China, and is relatively true to seed. In colder climates they might not grow fruit reliably as they...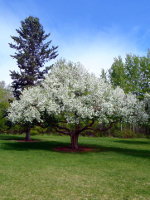 Siberian Crab Apple
SOLD OUT
Siberian Crab Apple is a beautiful, cold hardy, ornamental tree. Its stunning white blossoms burst in the spring to produce deep red fruit. If you are looking for a great landscape or shade tree, Siberian Crab Apple is a beautiful addition to any yard. As a...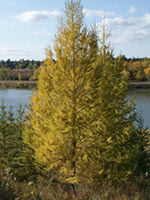 Siberian Larch Oasis
SOLD OUT
The Siberian Larch 'Oasis' is perfect for shade in the summer and sunlight in the winter as it drops its needles in the fall. A dense deciduous conifer tree with an attractive oval shape and a strong central leader, this larch is perfect in a shelterbelt for...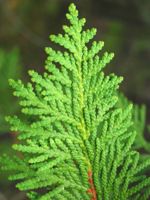 Skybound Cedar
SOLD OUT
The Skybound Cedar is a newer variety that is usually hardier than the Brandon Cedar and richer in color. The dark green, scale-like foliage maintain their needles and color throughout the winter. Cedars enjoy average to moist soil conditions and should not be...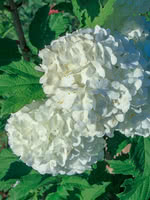 Snowball Viburnum
SOLD OUT
Snowball Viburnum is a popular ornamental shrub with prolific flowering. This plant is prized for its round clusters of white flowers that resemble snowballs, delighting children and adults. In fall, its leaves turn vibrant shades of red. Snowball Viburnum is...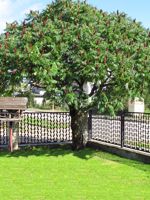 Staghorn Sumac
SOLD OUT
Staghorn Sumac is a popular ornamental shrub with red velvet like antlers that produce seeds that provide nice winter interest for landscapers and gardeners. This low-maintenance plant is a great addition to any garden it is also used in shelterbelts...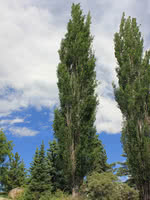 Swedish Aspen
SOLD OUT
Swedish Aspen is an extremely fast growing columnar aspen tree. It's ideally suited for urban settings where space is limited such as privacy screens or along the edges of driveways. Swedish aspen produces no fluff and is less prone to suckering than tower poplar...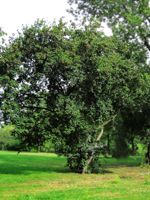 Tatarian Maple
SOLD OUT
Tatarian Maple is a small, multi-stemmed tree that features attractive red foliage in fall. In addition to its outstanding autumn color, it is also one of the first trees to leaf out in the spring. Tatarian Maple makes a good specimen tree for for small...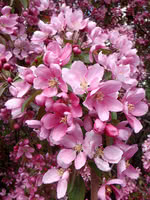 Thunderchild Flowering Crab
SOLD OUT
Thunderchild Flowering Crab is a hybrid crab apple known for its attractive and fragrant dark pink blossoms and deep purple mature leaves. Tree farmers will find this hybrid appealing as a pollinator for other apples, while home growers will enjoy the red...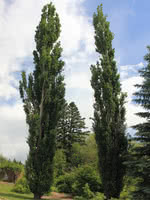 Tower Poplar
SOLD OUT
Tower Poplar is a fast growing, tall columnar tree that closely resembles the Swedish aspen. It produces no fluff, requires minimal maintenance and no pruning. It can tolerate drought and thrives in poor soils. Tower Poplar is most commonly planted in shelterbelts... Trader Mulberry
SOLD OUT
The Trader Mulberry is a rare find. Named for the Trader family who brought the mulberry from Germany when they immigrated to the U.S. in 1982 and planted the original tree at their new homestead in North Dakota. This tree still bears fruit today! Similar to the...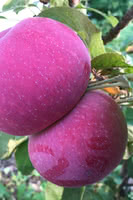 Treasured Red Columnar Apple
SOLD OUT
This exciting new Columnar Apple has an exquisite texture and a flavour similar to a McIntosh apple. Super compact, they fit easily into small urban gardens or along fences and decks. Unlike traditional apples that grow on horizontal branches, the Treasured Red...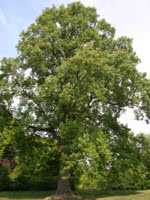 Tulip Poplar
SOLD OUT
Tulip Poplar is the perfect shade tree for wide open spaces. It has a shallow and extensive root system, so ensure you give it space to grow. The attractive and showy, yellow-orange, tulip shaped flowers are where this tree gets its name. Tulip Poplar is...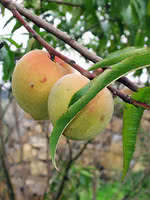 Tzim Pee Tao Peach
SOLD OUT
Tzim Pee Tao Peach (TPT) is a very cold hardy peach cultivar. The taste and form of these peaches is reported to be similar to the other cold hardy peach varieties. This variety is resistant to powdery mildew, but has a shorter window to accept successful...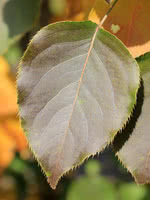 Ussurian Pear (Siberian)
SOLD OUT
Ussurian Pear (aka Manchurian or Siberian Pear) is the most cold hardy of all pear species. This self-pollinating pear bears white flowers in the spring and has good fall colour, making it an exceptional ornamental addition to any garden. However, it has a... Water Birch (Red Birch)
ONLY AVAILABLE BY CONTRACT GROW
Water Birch, also known as Red Birch, is a waterside plant native to western North America. This multi-stemmed species is ideal for wetlands. It tolerates being planted in heavy clay and wet soil conditions. This tree grows small enough for yards with limited...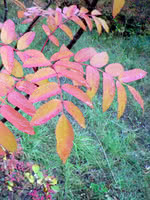 Western Mountain Ash
SOLD OUT
Western Mountain Ash is a popular ornamental tree native to the western part of North America. Its attractive, white clusters of flowers bloom in early summer, making way for red, yellow or orange fruit in the fall. If the fruit doesn't catch your eye, Western...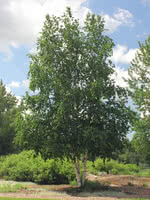 White Birch (Paper Birch)
SOLD OUT
White Birch is a large, attractive deciduous tree. This fast-growing, cold hardy species has distinctive white papery bark that peels in layers, making it a beautiful ornamental or accent tree. White Birch also makes great firewood...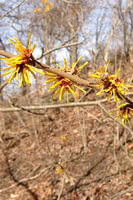 Witch Hazel
SOLD OUT
Witch Hazel is a deciduous shrub, or small tree, with a short trunk, bearing numerous spreading, crooked branches. The seeds grow in a long, wooden pod with two to four seeds per pod. Upon ripening, the pods burst, firing the seeds up to 30km an hour. The...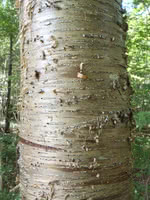 Yellow Birch
SOLD OUT
Yellow Birch is a large and valuable hardwood species in northeastern North America. The bark on its limbs and young trunks is silvery-yellowish in colour, hence the name. This tree prefers to grow in cool regions with damp or saturated soil. Yellow Birch can...