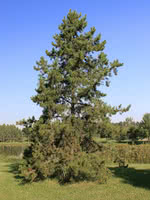 Lodgepole Pine
SAVE UP TO 55%
Lodgepole pine is well suited to western Canada's climate and growing conditions. This native pine noted for its rapid growth among evergreen. And as one of Canada's hardiest conifers, it can tolerate cold, shade, drought, and poor soil conditions...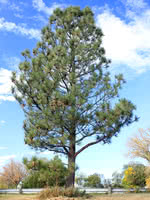 Ponderosa Pine
SAVE UP TO 38%
Ponderosa Pine is the tallest known pine in North America. This popular evergreen has distinctive, textured bark and long needles. This makes it an excellent ornamental tree for landscaping on large properties. Ponderosa Pine is hardy in a variety of soil...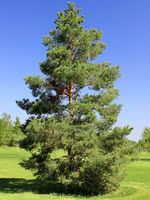 Scots Pine (Scotch Pine)
SAVE UP TO 28%
Scots Pine is a hardy, adaptable evergreen. This large tree has an oval crown and distinctively orange bark when mature. Scots Pine prefers dry to average moisture levels with very well-drained soil. It is the most common pine tree used in shelterbelts and...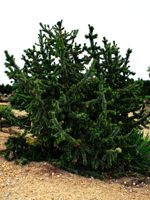 Bristlecone Pine
SAVE UP TO 26%
Bristlecone Pine is a small to medium evergreen with an irregular habit and contorted branches. This extremely long-lived tree is relatively low maintenance and drought-tolerant. It is known for its deep green to blue-green needles flecked with white resin...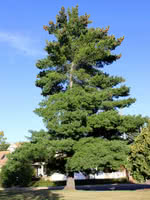 Eastern White Pine
SAVE UP TO 30%
Eastern White Pine is a large pine native to eastern North America. It is the provincial tree of Ontario. This long-lived, rapid growing giant is known for its long, flexible blue-green needles. Eastern White Pine is low-maintenance and makes a beautiful...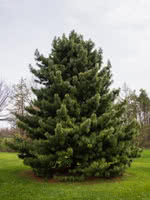 Korean Pine
SAVE UP TO 16%
Korean Pine is an attractive conifer suitable for shelterbelts, privacy screens, and ornamental planting. This tree is especially prized for its pine nuts. Korean Pine nuts are larger than most other species. They can be used in salads, pesto sauce, and other...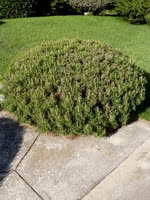 Mugo Pine
SAVE UP TO 42%
The Mugo Pine is a smaller evergreen that is commonly seen in small city lots or up against houses or commercial buildings. Its slow growth allows for a long life without ever getting too large. It is a very attractive tree that seldom gets the attention it...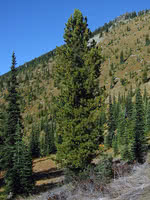 Whitebark Pine
SAVE UP TO 23%
Whitebark Pine is a beautiful coniferous tree that produces tasty, edible nuts. You'll love this trees' rustic and natural appeal, making it an excellent specimen tree. Whitebark Pine is well-known for maintaining snow drifts, providing food and shelter to many...
THE FOLLOWING PRODUCTS ARE CURRENTLY UNAVAILABLE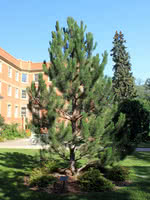 Austrian Pine
NOT AVAILABLE THIS SEASON
Austrian Pine is a medium-sized evergreen known for its dense rounded crown and long needles. This moderately fast growing tree adds year-round colour to your yard and tends to be resistant the effects of snow, ice, and pollution...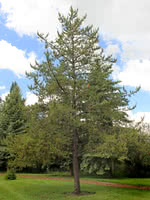 Jack Pine
NOT AVAILABLE THIS SEASON
Jack Pine is a cold tolerant native species that can survive on dry, sandy or gravelly sites. Similar to Scots Pine, though somewhat larger, Jack Pine is known for its yellow-green needles, spreading crown, and irregular form. If you have a tough site to plant...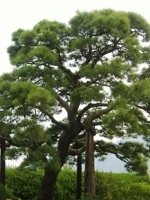 Japanese Black Pine
NOT AVAILABLE THIS SEASON
Japanese Black Pine is known for its unique and irregular growth habit, making it a striking landscape addition. It typically does not grow with a central leader. This causes it to form a flat-top, classic bonsai-like shape when mature. When it has a central...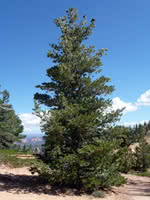 Limber Pine
NOT AVAILABLE THIS SEASON
Limber Pine is hardy, long-lived tree found specifically in sub-alpine areas of North America. This slow-growing evergreen will attract birds and squirrels to your property. Limber Pine will be a beautiful ornamental tree for your yard. We do not grow this...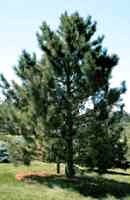 Red Pine
NOT AVAILABLE THIS SEASON
Red Pine is a large evergreen with an open, rounded crown and red bark when mature. This long-lived tree thrives in well-drained soils. Red Pine makes an attractive landscaping tree for larger properties...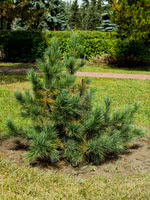 Swiss Stone Pine
NOT AVAILABLE THIS SEASON
Swiss Stone Pine is a hardy, slow-growing evergreen. Narrowly pyramidal while young, this long-lived tree is adaptable to many soil types. Due to its shape and density, Swiss Stone Pine is a versatile shade or accent tree. Although our pictures don't show it...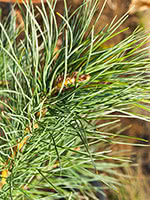 Western White Pine
NOT AVAILABLE THIS SEASON
The Western White Pine is long-long lived conifer that featuring a narrow, open, conical crown of horizontal branches with blue-green needles. It is native to the Pacific Northwest in the mountain region. As a timber species the Western White Pine is highly valued...