We're having a Massive Tree Sale!
Tamarack Larch for sale
Tamarack Larch
Larix laricina
SAVE UP TO 25%
Tamarack is a small to medium-sized native conifer tree featuring needles that turn an attractive gold before dropping in the fall.

This cold-tolerant tree grows well in very wet conditions, as long as it is exposed to full sun.
AVAILABLE STOCK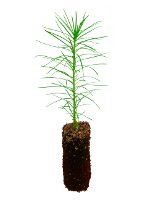 Tamarack Larch - 1 Year Old
Tamarack is a large coniferous tree that has soft needles that drop in the fall. Tamarack is bare in the winter and is very well suited to wet areas.

Stock Type: 412A Plug (125 ml)
Age: 1 year (1+0)
Size: 27-38cm (11-15")
YOU MIGHT ALSO BE INTERESTED IN...