We are closed to online orders until our new season begins in November
Call us at 1-844-873-3700 to discuss your project or
Subscribe to our email list to be notified when the season begins
Darn Gorgeous Rose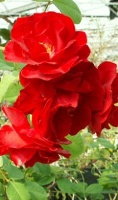 Darn Gorgeous Rose
Rosa sp.
SOLD OUT
Developed by DNA Gardens, Darn Gorgeous Rose is an ornamental shrub that produces radiant red teacup blossoms throughout the summer.

If you are looking to add a splash of colour to your home garden, Darn Gorgeous Rose is for you.

Our growers think this is truly a "Darn Gorgeous" rose and is a pleasure to see growing in our fields.
YOU MIGHT BE INTERESTED IN...