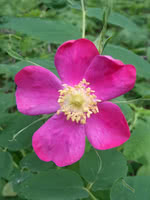 Alberta Wild Rose (Prickly Rose)
SOLD OUT
Alberta's provincial flower, Alberta Wild Rose, is a small, deciduous shrub known for its beautiful pink blooms and thick, thorny stems. Native to Canada, this hardy perennial is an attractive addition to any garden. Wildlife enjoy its edible rosehips, which...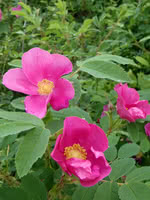 Common Wild Rose
SOLD OUT
Common Wild Rose produces attractive pink roses and edible bright red rosehips. This tough, native shrub is a beautiful, low-maintenance addition to any garden. Common Wild Rose is very similar to Alberta (Prickly) Wild Rose but with fewer thorns. Note...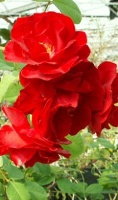 Darn Gorgeous Rose
SOLD OUT
Developed by DNA Gardens, Darn Gorgeous Rose is an ornamental shrub that produces radiant red teacup blossoms throughout the summer. If you are looking to add a splash of colour to your home garden, Darn Gorgeous Rose is for you. Our growers think this is...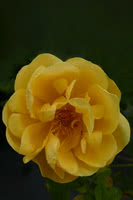 Hazeldean Rose
SOLD OUT
Hazeldean Rose is a perfect shrub for those who enjoy cut flowers. It blooms vigorously in late spring to early summer and is smothered in fragrant yellow double blooms that attract bees. The Hazeldean Rose is extremely cold weather hardy, making it a rare yellow...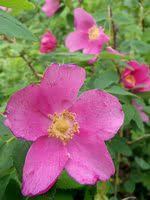 Hedge Rose
SOLD OUT
Hedge Rose is a long-lived, fast-growing shrub. It bears similar flowers to the Alberta Wild Rose. Birds will love its deep red rose hips. Hedge Rose will thrive in a wide variety of soils and is a tall rose forming a useful hedge. Excellent for shelterbelts... Morden Amorette Rose
SOLD OUT
The Morden Amorette Rose is a flowering hybrid shrub that is a compact grower, with bright reddish-pink blooms. The double-flowered blooms are lightly scented. This shrub blooms from late spring to late summer, and has glossy green leaves that turn yellow in the... Morden Blush Rose
SOLD OUT
The Morden Blush Rose has white flowers with shell pink overtones with a tea-like scent. The double-flowers bloom in spring and summer, emerging from distinctive pink buds. The foliage is dark green and glossy, turning yellow in the fall, with tomato-orange rose... Morden Centennial Rose
SOLD OUT
The Morden Centennial Rose is a showy flowering shrub with hot pink double-flowered blooms and yellow centers. This shrub has dark green and glossy foliage, which turns yellow in the later fall months and exhibits bright red rose hips. The Morden Centennial... Morden Sunrise Rose
SOLD OUT
The Morden Sunrise Rose is a popular shrub due to its yellow blooms that fade to a peachy-pink later in the summer and fall. These double flowers are lightly-scented and emerge from distinctive orange flower buds. It has a compact habit of growth, making this a...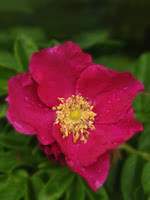 Red Rugosa Rose
SOLD OUT
Red Rugosa Rose is well-known for its incredible cold hardiness and disease resistance. This variety has beautiful crimson red flowers followed by scarlet rose hips in autumn. Try using the rose hips to make syrups or add flavor to existing fruit dishes and...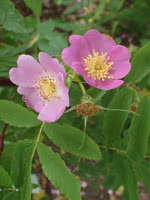 Smooth Rose
SOLD OUT
The Smooth Rose is a hardy shrub and is nearly-thornless. This plant is a vigorous grower that is covered in the summer with fragrant, pale pink and white flowers. In the fall, this shrub produces bright-red rose hips that are high in Vitamin C making them great...
White Rugosa Rose
SOLD OUT
White Rugosa Rose has many characteristics that will make it both a reliable and beautiful addition to your yard. Tolerant of many conditions and incredibly cold hardy, this rose can withstand salt, poor soil, and wind. White Rugosa Rose produces white flowers...