We are closed to online orders until our new season begins in November
Call us at 1-844-873-3700 to discuss your project or
Subscribe to our email list to be notified when the season begins
Little Leaf Linden for sale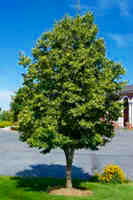 Little Leaf Linden
Tilia cordata
SOLD OUT
Little Leaf Linden is a large, deciduous shade tree that is native to Europe. The leaves are heart shaped with fine teeth on the margins. It has much smaller leaves than Large Leaf Linden.

Its small, fragrant yellow-green flowers are said to have medicinal properties and can also be used to make honey. Littleleaf Linden is a great choice for a boulevard or large lot.
UNAVAILABLE STOCK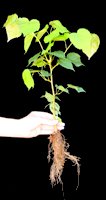 Little Leaf Linden - 2 Year Old
We are starting to see a greater interest in it for its distinctive ornamental qualities. Often used as a boulevard tree or front yard accent tree.

These seedlings are grown bareroot fields for a two growing season, transplanted into a new field between seasons. Better branched with greater root mass than container seedlings.

Stock Type: Bareroot
Age: 2 year (1+1)
Size: 30-76 cm (12-30")
Heights are quite variable
YOU MIGHT ALSO BE INTERESTED IN...