BLACK FRIDAY SALE ON NOW!
Limited Time Only!
Little Leaf Linden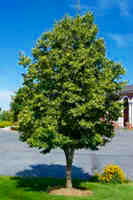 Little Leaf Linden
Tilia cordata
SOLD OUT
Little Leaf Linden is a large, deciduous shade tree that is native to Europe. The leaves are heart shaped with fine teeth on the margins. It has much smaller leaves than Large Leaf Linden.

Its small, fragrant yellow-green flowers are said to have medicinal properties and can also be used to make honey. Littleleaf Linden is a great choice for a boulevard or large lot.
YOU MIGHT BE INTERESTED IN...