We're having a Massive Tree Sale!
Little Leaf Linden for sale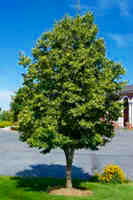 Little Leaf Linden
Tilia cordata
SAVE UP TO 35%
Littleleaf Linden is a large, deciduous shade tree. Its unique, heart-shaped leaves have fine teeth on the margins and are much smaller than those of the Big Leaf Linden.

Its small, fragrant yellow-green flowers are said to have medicinal properties and can also be used to make honey. Littleleaf Linden is a great choice for a boulevard or large lot.
AVAILABLE STOCK
Little Leaf Linden - 1 Year Old
Greenhouse grown seedlings. True to type and vigorous. Sorted for size and form.

Stock Type: 415D Plug (170 ml)
Age: 1 year (1+0)
Size:12-25cm (5-10")


YOU MIGHT ALSO BE INTERESTED IN...