BLACK FRIDAY SALE ON NOW!
Limited Time Only!
Canaan Fir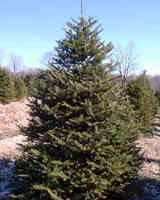 Canaan Fir
Abies balsamea phanerolepis
ONLY AVAILABLE BY CONTRACT GROW
Canaan Fir, which is closely related to Balsam Fir, is known for its open-growing patterns and strong branches.

Canaan Fir is highly adaptable to many soil conditions and thrives in both shaded areas or direct sunlight. It is commonly used for Christmas tree farming or reforestation.

This rugged landscape tree remains green year-round.
YOU MIGHT BE INTERESTED IN...