We are closed to online orders until our new season begins in November
Call us at 1-844-873-3700 to discuss your project or
Subscribe to our email list to be notified when the season begins
Griffin / Brooks #1 Poplar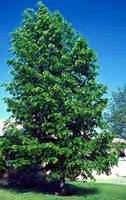 Griffin / Brooks #1 Poplar
Populus x Griffin
SOLD OUT
Griffin Poplar is a tall, fast-growing, deciduous tree. One of the oldest prairie hardy varieties developed at the Brooks Research Centre, Griffin Poplar is a great shelterbelt tree. It is adaptable in many soil conditions. Too large for a normal city lot, Griffin Poplar is also ideal for large properties and parks.
UNAVAILABLE STOCK
Griffin Poplar - 1 Year Old
Greenhouse grown rooted cuttings. True to type and vigorous. Sorted for size and form. This variety is a fluffless male clone.

Stock Type: 415D Plug (170 ml)
Age: 1 year (1+0)
Size: 30-63cm (12-25")
YOU MIGHT ALSO BE INTERESTED IN...