We are closed to online orders until our new season begins in November
Call us at 1-844-873-3700 to discuss your project or
Subscribe to our email list to be notified when the season begins
Tundra Haskap for sale
Tundra Haskap
Lonicera caerulea Tundra
SOLD OUT
Tundra Haskap is a hardy deciduous shrub. Of all the varieties, Tundra has the firmest fruit, making it great for commercial production.

Tundra is an early pollinating variety. Pair with other early pollinators to have a higher yield.
Aurora is a great companion variety.
UNAVAILABLE STOCK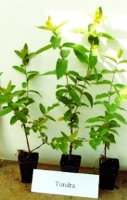 Tundra Haskap - 1 Year Old
Greenhouse-grown from cuttings, sorted for height and form.

Price includes University of Saskatchewan Royalty.

Stock Type: 615A Plug (336 ml)
Age: 1 year (1+0)
Size: 5-66cm (2-26")

Heights are quite variable
YOU MIGHT ALSO BE INTERESTED IN...