We're having a Massive Tree Sale!
Honey Bee Haskap for sale
Honey Bee Haskap
Lonicera caerulea Honey Bee
SAVE UP TO 27%
Honey Bee Haskap is a hardy deciduous shrub. Honey Bee Haskap produces tarter fruit than the Borealis and Tundra varieties, and it holds its fruit longer. This Haskap's leaves are sunburn and powdery mildew resistant. Honey Bee Haskap makes a great pollinator for Borealis, Tundra or the Indigo varieties.
AVAILABLE STOCK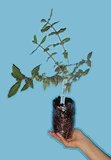 Honey Bee Haskap - 1 Year Old
Greenhouse-grown from rooted cuttings. True to type and vigorous.

Price includes University of Saskatchewan Royalty.

Stock Type: 615A Plug (336 ml)
Age: 1 year (1+0)
Size: TBD
YOU MIGHT ALSO BE INTERESTED IN...