We are closed to online orders until our new season begins in November
Call us at 1-844-873-3700 to discuss your project or
Subscribe to our email list to be notified when the season begins
Romeo Cherry
Romeo Cherry
Prunus x kerrasis Romeo
SOLD OUT
Romeo Cherry is a hardy deciduous hybrid shrub variety of Sour Cherry released in the Romance Series of dwarf sour cherries from the University of Saskatchewan in 2004. It features dark red/black, flavourful fruit most suitable for fresh eating, processing, and juice production. Romeo Cherry is also suitable as an accent or landscape tree.
UNAVAILABLE STOCK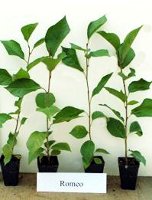 Romeo Cherry - 1 Year Old
Romeo Cherry is similar to the 'Carmine Jewel' variety, but produces fruit later in the season. One-year-old seedlings grown from tissue culture. Guaranteed genetically true to type.

Price includes University of Saskatchewan Royalty.

Stock Type: 2.5x3.25" (6x9cm) Mini Pot (325ml)
Age: 1 year (TC+0)
Size: 12-40cm (5-16")

Heights are quite variable
YOU MIGHT ALSO BE INTERESTED IN...