We are closed to online orders until our new season begins in November
Call us at 1-844-873-3700 to discuss your project or
Subscribe to our email list to be notified when the season begins
Juliet Cherry
Juliet Cherry
Prunus x kerrasis Juliet
SOLD OUT
Juliet Cherry is a hardy deciduous shrub and hybrid variety of the University of Saskatchewan Sour Cherry released in the Romance Series of dwarf sour cherries in 2004. It blooms earlier than the other Romance varieties, and produces highly desirable, delicious dark red fruit for production with high yields. Juliet Cherry is ideal as a landscape or accent tree.
UNAVAILABLE STOCK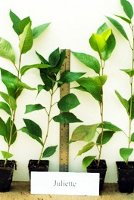 Juliet Cherry - 1 Year Old
Greenhouse grown seedlings from tissue culture. True to type and vigorous. Sorted for size and form.

Price includes University of Saskatchewan Royalty.

Stock Type: 2.5x3.25" Pot (6x9cm 325ml)
Age: 1 year (TC+0)
Size: 12-25cm (5-10")
YOU MIGHT ALSO BE INTERESTED IN...