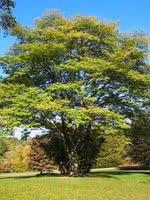 Amur Maackia
ONLY AVAILABLE BY CONTRACT GROW
Amur Maackia is a robust and pretty tree often used for urban decoration and landscaping. This tree has coppery peeling bark that can sometimes resemble lace. Its upright clusters of small white flowers usually bloom in midsummer. Amur Maackia's Small size makes it...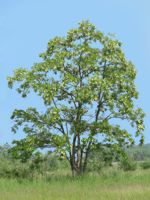 Black Locust
SOLD OUT
Black Locust is an attractive tree. Its distinctive leaves are made of about a dozen bright green leaflets. It also notable for its fragrant white flowers, which smell of citrus. Black Locust can grow in many situations, but prefers dry areas with lots of sun...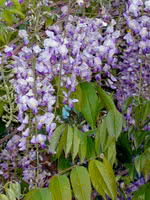 Blue Moon Wisteria
SOLD OUT
Blue Moon Wisteria is a striking, flowering vine, and the hardiest of the wisterias. Up to three times in one growing season you can expect showy, fragrant, lavender-blue flowers. Make sure you plan your site as this vine requires a structure to support its...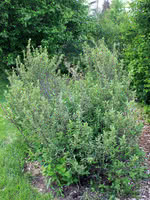 Canadian Buffaloberry
SOLD OUT
Canadian Buffalo Berry is a native deciduous shrub found throughout North America. This hardy, medium-sized shrub will tolerate poor soil conditions and produces attractive, edible–though very bitter–red fruit...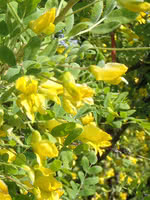 Common Caragana
SOLD OUT
Common Caragana is a fast growing shrub that's known for its exceptional hardiness and drought tolerance. Although it's most commonly planted in shelterbelts, Common Caragana is also an excellent hedge or feature shrub. Note: in warmer areas, this species can be...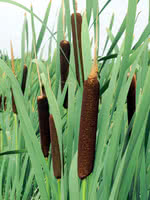 Common Cattail
ONLY AVAILABLE BY CONTRACT GROW
Cattail is found all across North America, growing next to water. Like other waterside plants, Cattail provides erosion control and forage for animals. It is suitable for land reclamation. Cattail is able to tolerate cold weather and occasional...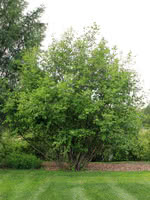 Green Alder
SOLD OUT
Green Alder is a cold hardy, native shrub. It is often planted on infertile sites so it can fix nitrogen from the air and improve the soil quality. Green Alder is known for its smooth grey bark and attractive shiny green leaves; it is commonly used in...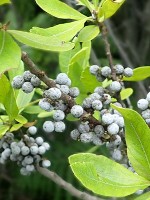 Northern Bayberry
SOLD OUT
Northern Bayberry makes an excellent hedge or feature shrub. It will retain its leaves in warmer climates but drops them in colder areas. They produce blue-grey berries that have a wax coating on them that can be used to make candles or soaps. In colder...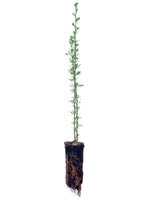 Pygmy Caragana
ONLY AVAILABLE BY CONTRACT GROW
Pygmy Caragana is a shrub that is related to Common Caragana and has a compact size that is suitable for yards with limited space. Its size is perfect for landscaping and decorative hedges, and requires little maintenance. This nitrogen fixer has fine-textured...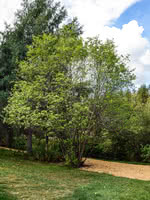 River Alder
SOLD OUT
River Alder is a large shrub or small tree with a multi-stemmed, spreading habit. It is an excellent tree to plant if you want to stabilize the soil near rivers and creeks. Unlike the other alder varieties, River Alder is attractive enough to be included in...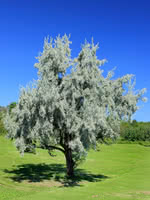 Russian Olive
SOLD OUT
Russian Olive is a medium-sized deciduous tree that has attractive silvery coloured foliage with small yellow flowers that emit a fragrant sweet smell. It is drought and salt tolerant, and works well as a shelterbelt species. Russian Olive can also be used to...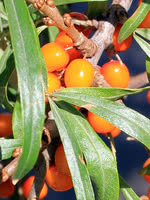 Sea Buckthorn
SOLD OUT
Sea Buckthorn is a nitrogen fixing shrub that produces attractive berries high in vitamin C. While we can't confirm claims that the berries are effective in treating various ailments, many people believe consuming the berries helps with arthritis, infections...
Silver Buffalo Berry
SOLD OUT
Silver Buffalo Berry is a cold hardy, ornamental shrub that is commonly used in the first row of shelterbelts instead of caragana or lilac. It features subtle yellow flowers, smooth grey bark, and red fruit. On occasion orange fruit is produced and rarely a yellow...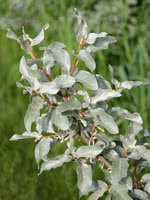 Silverberry (Wolf Willow)
SOLD OUT
Silverberry (also known as Wolf Willow) is a common native North American shrub. This beautiful ornamental plant has characteristic silver leaves and fragrant yellow flowers. Its silver berries remain on the branches through the winter. Silverberry is cold...