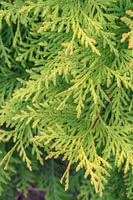 Amber Gold Arborvitae (Cedar)
NOT AVAILABLE THIS SEASON
The Amber Gold Arborvitae is a cultivar of the Eastern White Cedar that has high ornamental value. Its scale-like foliage emerges yellow, darkens to green in summer, then turns an attractive orange-gold. This tree is an effective privacy screen even in winter and...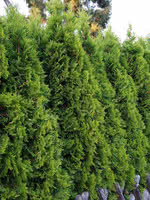 Brandon Cedar
COMING SOON
The Brandon Cedar is a columnar evergreen with soft, dense foliage that retains its bright green color all year round. It makes for a great vertical accent on your property or as part of a hedge, it is suitable for urban gardens due to its size and it is highly...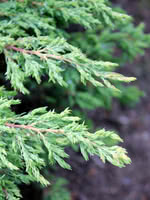 Common Juniper
NOT AVAILABLE THIS SEASON
Common Juniper is a wide spreading, coniferous shrub with scaly needles and small, berry-like cones. Used as a landscaping shrub, it typically grows 3 or 4 feet tall and will not spread like Creeping Juniper. You can plant Common Juniper near building...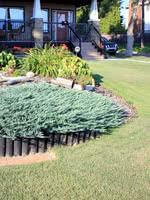 Creeping Juniper
NOT AVAILABLE THIS SEASON
Creeping Juniper is a low maintenance, spreading, ground cover shrub capable of growing in some of the worst soil and rocky conditions. You will love this shrubs' pleasant fragrance and year-round color. A beautiful accent or foundation plant, Creeping Juniper...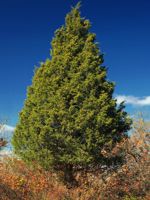 Eastern Red Cedar
NOT AVAILABLE THIS SEASON
Eastern Red Cedar is native to eastern Canada and is actually a variety of juniper, not cedar. Its pyramidal crown, low hanging branches, and dense, compact foliage makes it an ideal windbreak or shelterbelt tree. Eastern Red Cedar will attract wildlife to your...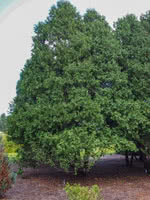 Eastern White Cedar (Arborvitae)
NOT AVAILABLE THIS SEASON
Eastern White Cedar is a slender growing conifer often used as a decorative tree or a hedge. This tree is an effective privacy screen even in winter and a great long term solution to urban crowding or a drab yard...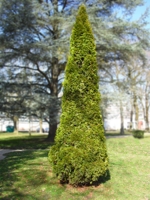 Emerald Cedar
NOT AVAILABLE THIS SEASON
Emerald Cedar makes a great addition to landscapes, and is often used to form tight hedges or privacy screens. The thick scale-like foliage adds texture and colour to yards and is commonly used to line driveways. Unlike other cedars it retains its green colour... Medora Juniper
NOT AVAILABLE THIS SEASON
Medora Juniper has an upright, narrow growth habit that makes it well suited as either an accent shrub or as a privacy hedge or screen. It is a compact, pyramidal evergreen shrub with blue-green foliage that lasts year round. It is low maintenance, drought...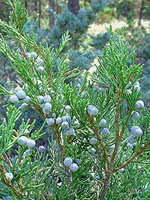 Rocky Mountain Juniper
NOT AVAILABLE THIS SEASON
The Rocky Mountain Juniper is a columnar and slightly rounded evergreen shrub that features foliage with colours that range from a light green to a dark blue-green. It produces round, dark-blue berry-like cones that ripen in the second year. Rocky Mountain...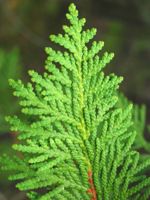 Skybound Cedar
NOT AVAILABLE THIS SEASON
The Skybound Cedar is a newer variety that is usually hardier than the Brandon Cedar and richer in color. The dark green, scale-like foliage maintain their needles and color throughout the winter. Cedars enjoy average to moist soil conditions and should not be...
Tamarix Juniper
ONLY AVAILABLE BY CONTRACT GROW
Tamarix Juniper has attractive, year round, blue-green foliage that will pop on a winter landscape. Not only does it provide winter interest, Tamarix Juniper is unique in that it does not "hug" the ground as one would expect. If you're looking for a shrub that...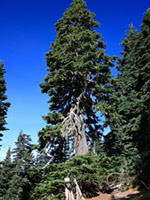 Western Red Cedar
NOT AVAILABLE THIS SEASON
Western Red Cedar is native to the Pacific Northwest, and is the largest tree in the cypress family. Featuring horizontal branching with scale-like dark green foliage that has a strong aroma. The wood is naturally durable and light, and is resistant to decay and...