We have selected one year old peat plugs that are easy to plant, relatively low maintenance and problem free, with little to no customer complaints and our highest reported survival rates each year.
Strong Start™ One year old plugs are the best of the best for the majority of our customers.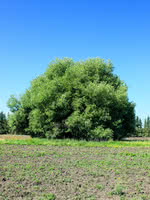 Acute Willow
SOLD OUT
Acute Willow is a very fast growing small tree that can reach growth rates of up to 6 feet per year. It's a great choice for developing a quick, hardy shelterbelt, windbreak, or privacy screen. Acute Willow will grow multi-stemmed but can be pruned to a single...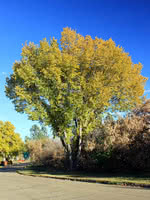 American Elm
SOLD OUT
American Elm is fast growing, tall tree with a recognizable and pleasing shape. It's well suited for urban environments because of its non-invasive roots and ability to grow on harsh sites (quite salt tolerant). American Elm develops a wide, dense canopy that...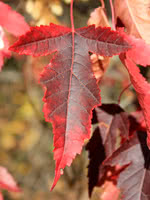 Amur Maple
SOLD OUT
Amur Maple is an incredibly colorful tree. As summer turns to fall, it's bright green leaves turn fiery red. This tree is perfectly suited for urban environments. It's small size allows you to plant it in city yards and beneath power lines. Amur maple can also...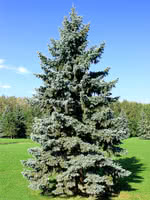 Blue Spruce (Colorado Spruce)
SOLD OUT
Blue Spruce, also known as Colorado Spruce, is our best selling tree! People are attracted to the distinctive blue-green color of this hardy evergreen. But Blue Spruce really stands out because it is tough, long lived, and adapted to a wide range of growing...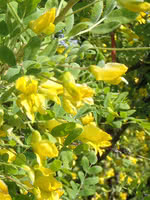 Common Caragana
SOLD OUT
Common Caragana is a fast growing shrub that's known for its exceptional hardiness and drought tolerance. Although it's most commonly planted in shelterbelts, Common Caragana is also an excellent hedge or feature shrub. Note: in warmer areas, this species can be...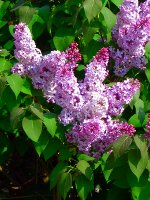 Common Purple Lilac
SOLD OUT
Common Purple Lilac is a popular lilac. This large shrub provides excellent privacy or wind protection in an attractive package. Lilac flowers are pleasantly fragrant and add a beautiful lavender colour to your property. Common Purple Lilac is cold hardy, easy...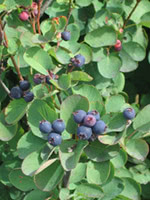 Common Saskatoon (Serviceberry)
SOLD OUT
Common Saskatoon is a native shrub that's famous for its great-tasting fruit. The berries are terrific for fresh eating and cooking. The Saskatoon bush itself can be quite large and produces an abundance of fruit. Saskatoons are hardy and can tolerate partial shade...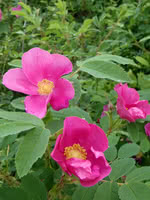 Common Wild Rose
SOLD OUT
Common Wild Rose produces attractive pink roses and edible bright red rosehips. This tough, native shrub is a beautiful, low-maintenance addition to any garden. Common Wild Rose is very similar to Alberta (Prickly) Wild Rose but with fewer thorns...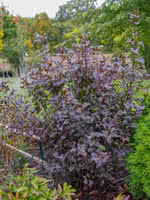 Diablo Ninebark
SOLD OUT
Diablo Ninebark is a small, low maintenance, multi-stemmed shrub, that is used to add texture or color to any yard. This plant grows dark purple leaves in the spring and grows slightly faster than Common Ninebark. It features flaky red to brown bark, clusters of...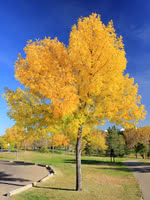 Green Ash
SOLD OUT
Green ash is a fast growing tree with incredible golden yellow leaves in fall. This tree is native to the prairies and is well suited for drought and cold. Green ash can also tolerate soil compaction, periods of flooding and a wide variety of soils including...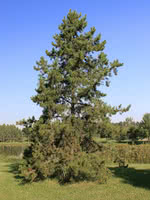 Lodgepole Pine
SOLD OUT
Lodgepole pine is well suited to western Canada's climate and growing conditions. This native pine noted for its rapid growth among evergreen. And as one of Canada's hardiest conifers, it can tolerate cold, shade, drought, and poor soil conditions...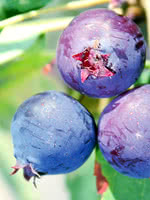 Martin Saskatoon (Serviceberry)
SOLD OUT
Martin Saskatoon is a prairie hardy shrub. The berries have a large size and a delicious taste. This species has consistent yield, making it great for both orchards and small gardens. The berries ripen uniformly, making them convenient for machine harvesting...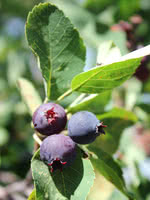 Northline Saskatoon (Serviceberry)
SOLD OUT
Northline Saskatoon is a native shrub that's famous for its great-tasting fruit. The berries are terrific for fresh eating and cooking. The Saskatoon bush itself can be quite large and produces an abundance of fruit. Saskatoons are hardy and can tolerate partial...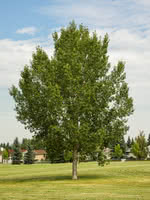 Northwest Poplar
SOLD OUT
Northwest Poplar is a large and fast-growing tree. Due to its wide spread, this tree makes a great shade or shelterbelt tree. Northwest Poplar tolerates partial shade, drought, and most types of soil. This poplar produces no fuzz. Northwest Poplar continues to...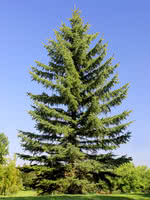 Norway Spruce
SOLD OUT
Norway Spruce is a large, openly branched evergreen recognized by its drooping branchlets and large cones. This hardy, adaptable tree thrives in moist conditions, but will grow in clay or sandy soils. Norway Spruce is the fastest growing spruce we carry but...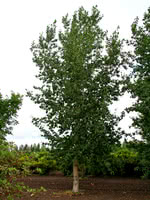 Okanese Poplar
SOLD OUT
Okanese Poplar is an excellent shelterbelt tree. It's one of the hardiest and fastest growing trees you can plant on the prairies. This hybrid poplar is disease resistant, drought and cold tolerant, produces no fuzz, and requires little maintenance. Okanese poplar...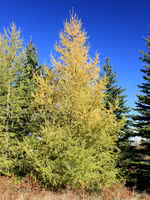 Siberian Larch
SOLD OUT
Siberian Larch is a large, cold hardy conifer. Like the Tamarack, its needles turn golden yellow and drop in the fall, and it is able to handle saturated soils. If you are looking for a long-lived tree for your large property or shelterbelt with quite wet soil...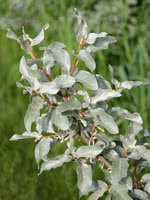 Silverberry (Wolf Willow)
SOLD OUT
Silverberry (also known as Wolf Willow) is a common native North American shrub. This beautiful ornamental plant has characteristic silver leaves and fragrant yellow flowers. Its silver berries remain on the branches through the winter. Silverberry is cold...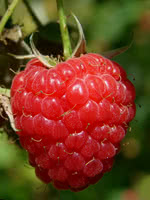 Souris Raspberry (an improved Boyne Raspberry)
SOLD OUT
Souris is an improved version of Boyne, the classic prairie raspberry. It is planted all across Canada and is extremely robust. Where other raspberry cultivars rely on unique selling points and specializations, Souris is just generally a great raspberry. Souris...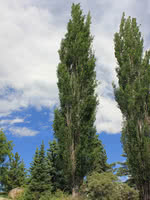 Swedish Aspen
SOLD OUT
Swedish Aspen is an extremely fast growing columnar aspen tree. It's ideally suited for urban settings where space is limited such as privacy screens or along the edges of driveways. Swedish aspen produces no fluff and is less prone to suckering than tower poplar...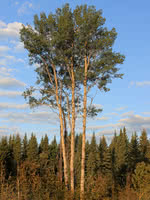 Trembling Aspen
SOLD OUT
Trembling Aspen is a hardy, fast-growing tree. It is known for its unique "trembling" leaf movement and beautiful bark that whitens with age. This native shade tree tolerates a range of growing conditions and requires little maintenance...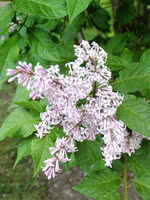 Villosa Lilac
SOLD OUT
Popular Hedge Species! Villosa Lilac is a relatively large and cold hardy shrub. It provides excellent privacy and wind protection. Its fragrant, pink flowers grow in clusters at the end of its branches during mid to late summer and fade to a light pink over...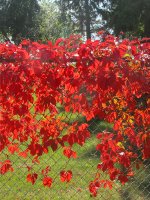 Virginia Creeper
SOLD OUT
Virginia Creeper is a fast-growing, climbing vine. Its root-like tendrils attach themselves to any non-smooth surface, even brick, but will also grow as a ground cover. Virginia Creeper makes a beautiful ornamental plant for your garden; its attractive foliage...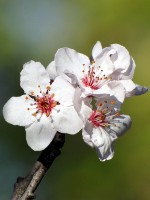 Western Sand Cherry
SOLD OUT
Western Sand Cherry is known for its unique, leathery grey-green foliage and beautiful white blossoms. It is a popular ornamental shrub in parks and front yards. Both you and the wildlife will love its edible small dark red to purple cherries. Due to its small...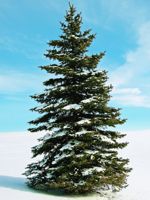 White Spruce
SOLD OUT
White Spruce is a hardy, long-lived evergreen tree. It can grow in many soil types and moisture levels. And it can even tolerate significant amounts of shade. White spruce requires little maintenance and is well suited for use in shelterbelts, privacy screens...