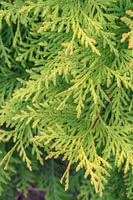 Amber Gold Arborvitae (Cedar)
SAVE UP TO 23%
The Amber Gold Arborvitae is a cultivar of the Eastern White Cedar that has high ornamental value. Its scale-like foliage emerges yellow, darkens to green in summer, then turns an attractive orange-gold. This tree is an effective privacy screen even in winter and...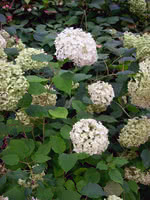 Annabelle Hydrangea
SAVE UP TO 17%
Annabelle Hydrangea is a cold hardy shrub that is well known for its large, compact clusters of white flowers. Unlike other flowering species, Hydrangeas do best in partial shade. However, they are capable of growing in full sun if the soil is kept consistently...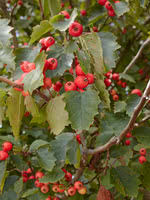 Arnold Hawthorn
SAVE UP TO 31%
Arnold Hawthorn is a low-branched tree favored by wildlife and landscapers. This tree's beautiful white flowers and bright red berries make it an attractive ornamental in anyone's yard. Arnold Hawthorn is also used in windbreaks and riparian planting. Despite...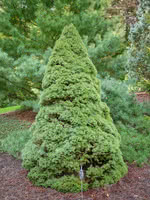 Dwarf Alberta Spruce
SAVE UP TO 36%
Dwarf Alberta Spruce is a small tree with very dense foliage. It is an attractive specimen in landscape designs and small yards. This plant naturally grows into the classic conical shape, but responds well to shearing and pruning. Dwarf Alberta Spruce is hardy...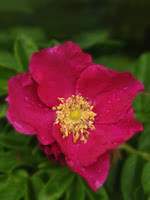 Red Rugosa Rose
SAVE UP TO 24%
Red Rugosa Rose is well-known for its incredible cold hardiness and disease resistance. This variety has beautiful crimson red flowers followed by scarlet rose hips in autumn. Try using the rose hips to make syrups or add flavor to existing fruit dishes and...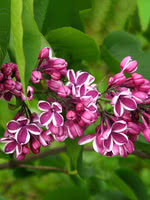 Sensation Lilac
SAVE UP TO 5%
Sensation Lilac is an outstanding shrub known for its fragrant, bicolor flowers. In mid-spring, stunning purple flowers with white borders emerge and cover the entire plant. Once the flowers bloom, they give off a beautifully sweet scent that is enjoyed by...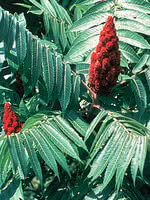 Staghorn Sumac
SAVE UP TO 32%
Staghorn Sumac is a popular ornamental shrub with red velvet like antlers that produce seeds that provide nice winter interest for landscapers and gardeners. This low-maintenance plant is a great addition to any garden it is also used in shelterbelts...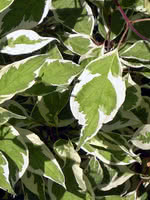 Variegated Dogwood
SAVE UP TO 43%
Variegated Dogwood is a small shrub that is often used in the first row of a shelterbelt, as a hedge, or for soil stabilization projects. It has the same distinctive red bark, white flowers, and berries as Red Osier Dogwood. The key difference between the two is...
THE FOLLOWING PRODUCTS ARE CURRENTLY UNAVAILABLE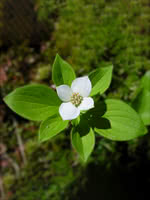 Bunchberry
SOLD OUT
The Bunchberry, or Quatre-Temps as it is commonly known in Quebec, is an excellent ornamental plant to have in your garden. With star-shaped white flowers in spring and clusters of bright red berries in the fall, this is one of the most refined and hardy...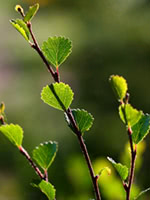 Dwarf Birch
SOLD OUT
Dwarf Birch, also known as Bog Birch for its common occurrence in wet areas, is a small deciduous shrub native to North America. Found growing up into the arctic circle, this is one of the few trees that grows that far north. Common in riparian zones and...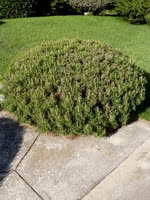 Mugo Pine
NOT AVAILABLE THIS SEASON
Mugo Pine is an extremely hardy, adaptable evergreen. This long-lived, slow-growing tree is relatively low maintenance, but prefers full sunlight. Mugo Pine is perfect for small city lots...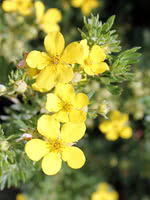 Shrubby Cinquefoil (Potentilla)
SOLD OUT
Shrubby Cinquefoil is a small, deciduous flowering shrub. This hardy species is densely covered with leaves and produces pale to bright yellow buttercup-shaped flowers terminally on the stems. Flowering typically occurs from early to late summer. Shrubby...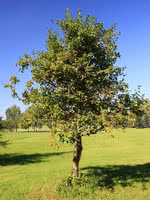 Washington Hawthorn
ONLY AVAILABLE BY CONTRACT GROW
Washington Hawthorn is an attractive ornamental shrub that is dense enough to plant as a privacy screen. It produces clusters of white blooms in late spring to early summer. Washington Hawthorn's red berries last throughout winter, bringing squirrels and birds...
White Rugosa Rose
NOT AVAILABLE THIS SEASON
White Rugosa Rose has many characteristics that will make it both a reliable and beautiful addition to your yard. Tolerant of many conditions and incredibly cold hardy, this rose can withstand salt, poor soil, and wind. White Rugosa Rose produces white flowers...