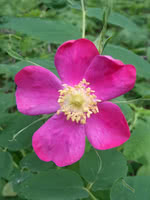 Alberta Wild Rose (Prickly Rose)
SAVE UP TO 43%
Alberta's provincial flower, Alberta Wild Rose, is a small, deciduous shrub known for its beautiful pink blooms and thick, thorny stems. Native to Canada, this hardy perennial is an attractive addition to any garden. Wildlife enjoy its edible rosehips, which...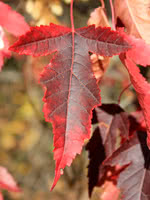 Amur Maple
SAVE UP TO 28%
Amur Maple is an incredibly colorful tree. As summer turns to fall, it's bright green leaves turn fiery red. This tree is perfectly suited for urban environments. It's small size allows you to plant it in city yards and beneath power lines. Amur maple can also...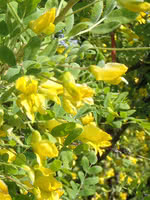 Common Caragana
SAVE UP TO 22%
Common Caragana is a fast growing shrub that's known for its exceptional hardiness and drought tolerance. Although it's most commonly planted in shelterbelts, Common Caragana is also an excellent hedge or feature shrub. Note: in warmer areas, this species can be...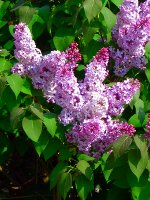 Common Purple Lilac
SAVE UP TO 32%
Common Purple Lilac is a popular lilac. This large shrub provides excellent privacy or wind protection in an attractive package. Lilac flowers are pleasantly fragrant and add a beautiful lavender colour to your property. Common Purple Lilac is cold hardy, easy...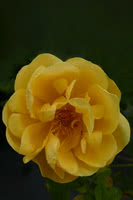 Hazeldean Rose
SAVE UP TO 7%
Hazeldean Rose is a perfect shrub for those who enjoy cut flowers. It blooms vigorously in late spring to early summer and is smothered in fragrant yellow double blooms that attract bees. The Hazeldean Rose is extremely cold weather hardy, making it a rare yellow...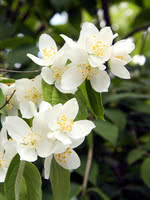 Mock Orange
SAVE UP TO 47%
Mock Orange's white flowers look and smell like those of the orange, with a hint of jasmine in the scent. It is an excellent ornamental shrub. People love the contrast between its flowers and dark green leaves. Mock Orange is suitable for planting alone or in...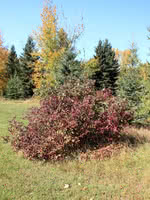 Red Osier Dogwood
SAVE UP TO 30%
Red Osier Dogwood is a small deciduous shrub that features deep red stems and twigs year-round, with creamy white flowers in the spring. This shrub will add a nice pop of color to your yard. Red Osier Dogwood is an excellent soil stabilizer and a nitrogen fixer...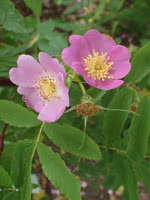 Smooth Rose
SAVE UP TO 22%
The Smooth Rose is a hardy shrub and is nearly-thornless. This plant is a vigorous grower that is covered in the summer with fragrant, pale pink and white flowers. In the fall, this shrub produces bright-red rose hips that are high in Vitamin C making them great...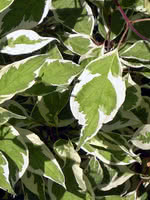 Variegated Dogwood
SAVE UP TO 43%
Variegated Dogwood is a small shrub that is often used in the first row of a shelterbelt, as a hedge, or for soil stabilization projects. It has the same distinctive red bark, white flowers, and berries as Red Osier Dogwood. The key difference between the two is...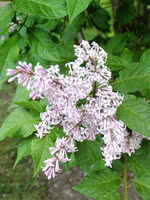 Villosa Lilac
Popular Hedge Species! Villosa Lilac is a relatively large and cold hardy shrub. It provides excellent privacy and wind protection. Its fragrant, pink flowers grow in clusters at the end of its branches during mid to late summer and fade to a light pink over...
THE FOLLOWING PRODUCTS ARE CURRENTLY UNAVAILABLE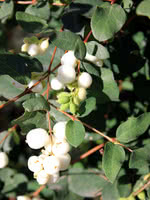 Common Snowberry
NOT AVAILABLE THIS SEASON
Common Snowberry is a small deciduous shrub with characteristic white to pink flowers and clusters of white fruit. This North American native species is very adaptable, and can be used for erosion control in riparian and restoration areas. Snowberry's fruit...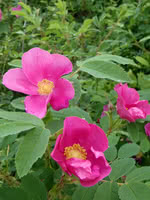 Common Wild Rose
NOT AVAILABLE THIS SEASON
Common Wild Rose produces attractive pink roses and edible bright red rosehips. This tough, native shrub is a beautiful, low-maintenance addition to any garden. Common Wild Rose is very similar to Alberta (Prickly) Wild Rose but with fewer thorns. Note...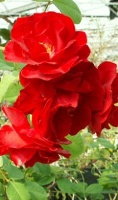 Darn Gorgeous Rose
NOT AVAILABLE THIS SEASON
Developed by DNA Gardens, Darn Gorgeous Rose is an ornamental shrub that produces radiant red teacup blossoms throughout the summer. If you are looking to add a splash of colour to your home garden, Darn Gorgeous Rose is for you. Our growers think this is...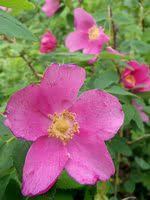 Hedge Rose
NOT AVAILABLE THIS SEASON
Hedge Rose is a long-lived, fast-growing shrub. It bears similar flowers to the Alberta Wild Rose. Birds will love its deep red rose hips. Hedge Rose will thrive in a wide variety of soils and is a tall rose forming a useful hedge. Excellent for shelterbelts...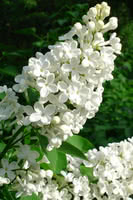 Madame Lemoine White Lilac
NOT AVAILABLE THIS SEASON
Madame Lemoine White Lilac is great for attracting butterflies and hummingbirds. Winner of the Garden Merit from the Royal Horticultural Society, the Madame Lemoine White Lilac has fragrant white flowers that are great for cutting and blue-green foliage that turns...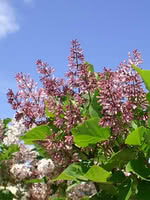 Manchurian Lilac (Korean Lilac)
NOT AVAILABLE THIS SEASON
Manchurian Lilac (aka Korean Lilac) is a medium-sized shrub that features fragrant clusters of pale purple flowers in late spring. Manchurian Lilac is less affected by disease than other lilacs and will create a beautiful border, hedge, or privacy screen. If...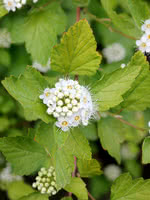 Ninebark
ONLY AVAILABLE BY CONTRACT GROW
Ninebark is a small, multi-stemmed shrub, that is used to add texture or colour to any yard. It features flaky, cinnamon-brown bark, attractive white flowers, and long, maple-like leaves...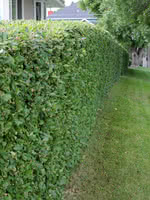 Peking Cotoneaster
SOLD OUT
Peking Cotoneaster is a medium-sized shrub that is well adapted to colder climates. Best suited for use as a hedge, Peking Cotoneaster has dark green foliage that turns a stunning reddish orange in the fall. Hardy fruit guru, Bernie Nikolai (DBG Fruit Growers...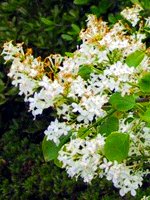 Peking Lilac
NOT AVAILABLE THIS SEASON
Peking Lilac is a small, deciduous shrub. This robust species is not as fragrant as Common Lilac, but it makes up for it with its large clusters of beautiful white flowers in the spring. Perfect for any yard, Peking Lilac does not sucker, seldom suffers from...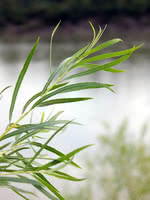 Sandbar Willow
ONLY AVAILABLE BY CONTRACT GROW
Sandbar Willow is a deciduous species native to much of North America. This mid-sized, fast-growing shrub can be found in very wet areas, making it an ideal plan to use in a wet area with erosion risk. Sandbar Willow has long, narrow green leaves, and its...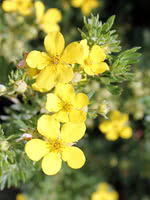 Shrubby Cinquefoil (Potentilla)
SOLD OUT
Shrubby Cinquefoil is a small, deciduous flowering shrub. This hardy species is densely covered with leaves and produces pale to bright yellow buttercup-shaped flowers terminally on the stems. Flowering typically occurs from early to late summer. Shrubby...