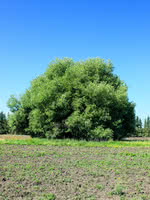 Acute Willow
SAVE UP TO 57%
Acute Willow is a very fast growing small tree that can reach growth rates of up to 6 feet per year. It's a great choice for developing a quick, hardy shelterbelt, windbreak, or privacy screen. Acute Willow will grow multi-stemmed but can be pruned to a single...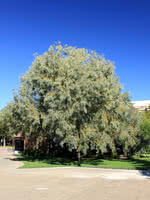 Golden Willow
SAVE UP TO 57%
Golden Willow is an attractive accent tree that's perfectly suited for those moist or wet areas on your property. This fast growing tree has glossy narrow leaves that turn gold in fall, furrowed brown bark and showy gold branches that especially stand out in...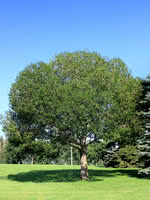 Laurel Leaf Willow
SAVE UP TO 25%
Laurel Leaf Willow is a round-shaped tree with attractive dark green leaves. This cold hardy tree can withstand bitter winters and still put on lots of growth every summer. Laurel Leaf Willow prefers moist to wet ground and full sun, though it can tolerate...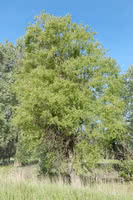 Peachleaf Willow
SAVE UP TO 31%
The Peachleaf Willow is often a multi-stemmed willow that generally grows into a tall shrub. This versatile and useful small tree is often seen in riparian zones and erosion control projects. Wildlife rely on the twigs, foliage and bark for food. A widely...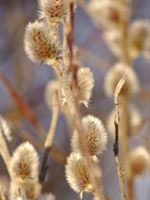 Pussy Willow
SAVE UP TO 38%
Pussy Willow is a large shrub or small tree that produces catkins that are soft, silky, and silvery before leaves appear in the spring. This native willow prefers moist to wet soil. Pussy Willow makes a beautiful accent tree, and its bright branches can be used...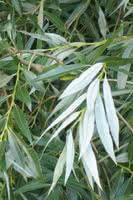 Silver Leaf Willow
SAVE UP TO 17%
Native to North America, Silver Leaf Willow has orangish bark and long, silvery grey leaves. Bees and other insects are attracted to its flowers. Popular as an ornamental tree for parks, it is also used as a shelterbelt species. It may not be as cold hardy as...
THE FOLLOWING PRODUCTS ARE CURRENTLY UNAVAILABLE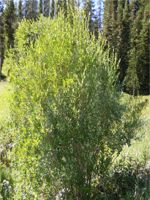 Bebbs Willow
NOT AVAILABLE THIS SEASON
This large shrub is native to all of Canada and most of the United States. Its leaves are green on the top and grey on the bottom, and it produces catkin based flowers and non-edible fruit which appears very similar to a group of pine needles. Bebb's Willow is... Bog Willow
ONLY AVAILABLE BY CONTRACT GROW
One of the most common willows in Canada. This shrubby willow is common in swampy, peaty, shorelines (bogs and fens). Rarely over 6 feet in height. A great native species for reclamation or naturalization projects in riparian zones. All willow are important...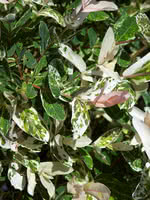 Dappled Willow
NOT AVAILABLE THIS SEASON
Dappled Willow is a small, cold hardy shrub with unusual beauty. Its leaves are pink in spring, maturing into variegated shades of pink, white and green. After losing their leaves in autumn, the stems maintain a rich red color throughout the winter. For a splash of...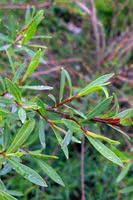 Dwarf Arctic Willow
NOT AVAILABLE THIS SEASON
Dwarf Arctic Willow is a beautiful ornamental shrub that attracts butterflies. It grows into a low dense, rounded shrub with slender purple stems. The Dwarf Arctic Willow has bluish-green foliage throughout the season and stunning when planted as an artistic hedge...
Golden Weeping Willow
ONLY AVAILABLE BY CONTRACT GROW
The Golden Weeping Willow is a cultivar with bright yellow twigs and an attractive weeping shape. It is one of the most popular willows, with high ornamental value. The Golden Weeping Willow has glossy green foliage during the spring and summer months, then the...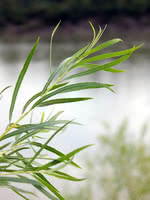 Sandbar Willow
ONLY AVAILABLE BY CONTRACT GROW
Sandbar Willow is a deciduous species native to much of North America. This mid-sized, fast-growing shrub can be found in very wet areas, making it an ideal plan to use in a wet area with erosion risk. Sandbar Willow has long, narrow green leaves, and its...