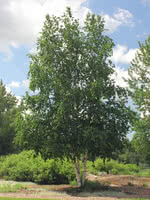 White Birch (Paper Birch)
SAVE UP TO 33%
White Birch is a large, attractive deciduous tree. This fast-growing, cold hardy species has distinctive white papery bark that peels in layers, making it a beautiful ornamental or accent tree. White Birch also makes great firewood...
THE FOLLOWING PRODUCTS ARE CURRENTLY UNAVAILABLE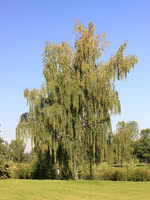 Cutleaf Weeping Birch
NOT AVAILABLE THIS SEASON
Cutleaf Weeping Birch is a tall, deciduous cultivar known for its pronounced weeping branches and ferny green leaves. It features showy, peeling white bark and brilliant yellow leaves in the fall. Cutleaf Weeping Birch makes an exceptional accent tree for...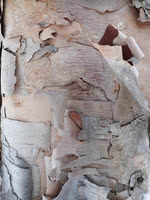 Dahurian Birch
ONLY AVAILABLE BY CONTRACT GROW
Dahurian Birch is a rare and interesting ornamental with curling bark. This tree is the first to sprout on bare land and is tolerant of dry, gravelly, and infertile soils. Dahurian Birch can grow in industrial areas or exposed land as long as it has full sunlight...
Dakota Pinnacle Birch
ONLY AVAILABLE BY CONTRACT GROW
Dakota Pinnacle Birch is a hardy deciduous tree with a columnar to narrowly pyramidal form. It makes a beautiful accent tree, and Dakota Pinnacle Birch is insect resistant and drought tolerant. Dakota Pinnacle Birch features smooth white bark and dark, green...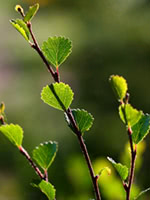 Dwarf Birch
NOT AVAILABLE THIS SEASON
Dwarf Birch, also known as Bog Birch for its common occurrence in wet areas, is a small deciduous shrub native to North America. Found growing up into the arctic circle, this is one of the few trees that grows that far north. Common in riparian zones and...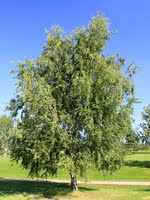 European White Birch
NOT AVAILABLE THIS SEASON
European White Birch is a mid-sized shade tree native to Eurasia. This deciduous tree has a pyramidal form when young, maturing into a rounded crown with arched branches and drooping branchlets. The trunk is slender, with white bark featuring black...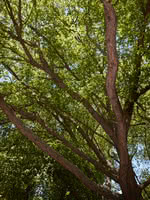 River Birch
NOT AVAILABLE THIS SEASON
River Birch has beautiful, peeling, brown bark that reveals camel-colored and pink beneath. It is more borer resistant than white bark birches, which makes it a much longer-lived landscape tree... Royal Frost Birch
NOT AVAILABLE THIS SEASON
Royal Frost Birch is a beautiful, cold hardy tree. It features burgundy-red-purple foliage, turning a showy yellow-orange-red in fall. The attractive white bark is striking on a winter landscape. Royal Frost Birch loves moisture. To meet this trees' moisture...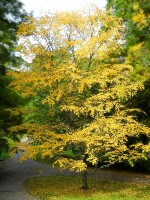 Sweet Birch (Black Birch)
NOT AVAILABLE THIS SEASON
Sweet Birch (Black Birch) is an attractive tree with a rounded shape native to eastern North America that would be a good addition to landscapes. It has a conical growth shape when young and as it ages the shape becomes more rounded. When the leaves, shoots, or... Water Birch (Red Birch)
ONLY AVAILABLE BY CONTRACT GROW
Water Birch, also known as Red Birch, is a waterside plant native to western North America. This multi-stemmed species is ideal for wetlands. It tolerates being planted in heavy clay and wet soil conditions. This tree grows small enough for yards with limited...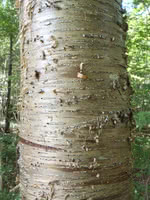 Yellow Birch
NOT AVAILABLE THIS SEASON
Yellow Birch is a large and valuable hardwood species in northeastern North America. The bark on its limbs and young trunks is silvery-yellowish in colour, hence the name. This tree prefers to grow in cool regions with damp or saturated soil. Yellow Birch can...