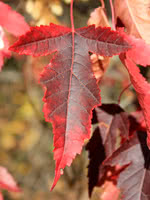 Amur Maple
SOLD OUT
Amur Maple is an incredibly colorful tree. As summer turns to fall, it's bright green leaves turn fiery red. This tree is perfectly suited for urban environments. It's small size allows you to plant it in city yards and beneath power lines. Amur maple can also...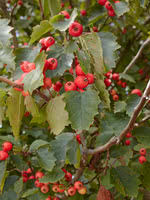 Arnold Hawthorn
SOLD OUT
Arnold Hawthorn is a low-branched tree favored by wildlife and landscapers. This tree's beautiful white flowers and bright red berries make it an attractive ornamental in anyone's yard. Arnold Hawthorn is also used in windbreaks and riparian planting. Despite...
Assiniboine Poplar
SOLD OUT
Assiniboine poplar is a tall, fast growing tree that has a shapely oval form and dense foliage. This hybrid poplar is a male clone and produces no fuzz or fluff. Assiniboine poplar can handle tough conditions such as: urban pollution, environmental salt, drought...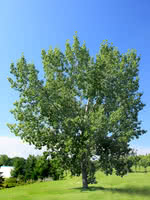 Balsam Poplar
SOLD OUT
Balsam Poplar is a hardy, fast-growing deciduous tree that is Native to Canada east of the Rockies. We grow them in two variations. Sometimes they are a male clones, so they don't produce fluff. Other times, we grow them from seed, which will result in fluff...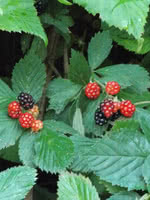 Balsors Blackberry
SOLD OUT
The Balsors Blackberry is a cold-hardy variety that produces very large, sweet and juicy blackberries late in the summer. They are great for baking and fresh eating. Balsors Blackberry are floricanes, primarily fruiting on second year canes. Each spring cut...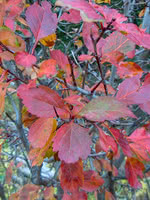 Black Hawthorn
SOLD OUT
Black Hawthorn is a versatile plant that is native to wetlands and other areas with moist soils, but can also tolerate dry soils. This plant can be grown as a short shrub, or a tree reaching 30 feet tall. Black Hawthorn is valued for erosion control and...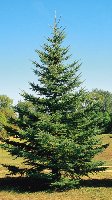 Black Hills Spruce
ONLY AVAILABLE BY CONTRACT GROW
Black Hills Spruce is a subspecies of White Spruce native to the Black Hills of South Dakota. It has a strongly conical form, slower growth rate and denser foliage than typical white spruce, making it preferable as a specimen tree for smaller suburban lawns. It...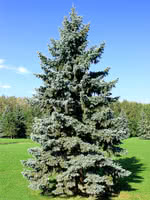 Blue Spruce (Colorado Spruce)
SOLD OUT
Blue Spruce, also known as Colorado Spruce, is our best selling tree! People are attracted to the distinctive blue-green color of this hardy evergreen. But Blue Spruce really stands out because it is tough, long lived, and adapted to a wide range of growing... Blue Spruce Iselis Fastigiate (Columnar)
SOLD OUT
Iseli Fastigiate Blue Spruce is perfect if you are looking for colour all year. A cultivar of the Blue Spruce, it is also known as the Columnar Colorado Blue Spruce. The Iseli Fastigiate Blue Spruce is one of the more distinctive evergreens. Its foliage is blueish...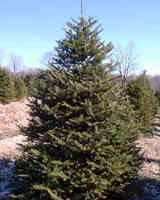 Canaan Fir
ONLY AVAILABLE BY CONTRACT GROW
Canaan Fir, which is closely related to Balsam Fir, is known for its open-growing patterns and strong branches. Canaan Fir is highly adaptable to many soil conditions and thrives in both shaded areas or direct sunlight. It is commonly used for Christmas tree...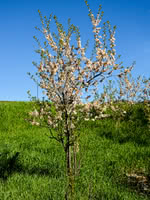 Canada Plum & American Plum
SOLD OUT
Canada and American Plum are almost identical in appearance and growth needs. These plants are short and stout fruit trees native to North America. This hardy ornamental is excellent for both city dwellings as well as rural areas. During the spring, the white...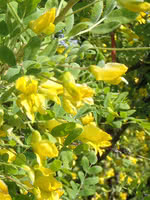 Common Caragana
SOLD OUT
Common Caragana is a fast growing shrub that's known for its exceptional hardiness and drought tolerance. Although it's most commonly planted in shelterbelts, Common Caragana is also an excellent hedge or feature shrub. Note: in warmer areas, this species can be...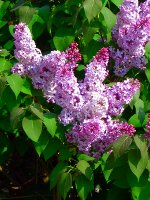 Common Purple Lilac
SOLD OUT
Common Purple Lilac is a popular lilac. This large shrub provides excellent privacy or wind protection in an attractive package. Lilac flowers are pleasantly fragrant and add a beautiful lavender colour to your property. Common Purple Lilac is cold hardy, easy...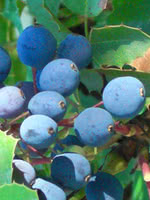 Creeping Oregon Grape
ONLY AVAILABLE BY CONTRACT GROW
Creeping Oregon Grape is an excellent ground cover plant with attractive, dark green, holly-like leaves. It maintains its leaves throughout winter, which turn mauve, rose, and rust-colored. Clusters of bright, yellow flowers develop into dark, blue-purple edible...
Dakota Pinnacle Birch
ONLY AVAILABLE BY CONTRACT GROW
Dakota Pinnacle Birch is a hardy deciduous tree with a columnar to narrowly pyramidal form. It makes a beautiful accent tree, and Dakota Pinnacle Birch is insect resistant and drought tolerant. Dakota Pinnacle Birch features smooth white bark and dark, green...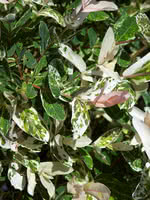 Dappled Willow
SOLD OUT
Dappled Willow is a small, cold hardy shrub with unusual beauty. Its leaves are pink in spring, maturing into variegated shades of pink, white and green. After losing their leaves in autumn, the stems maintain a rich red color throughout the winter. For a splash of...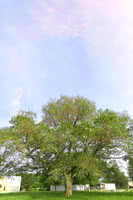 Discovery Japanese Elm
SOLD OUT
Discovery Japanese Elm is great for anyone who doesn't have a lot of time to maintain their trees as it doesn't drop many seeds. It has beautiful dark green foliage and is resistant to Dutch Elm Disease. This elm is similar in shape to the American Elm but is...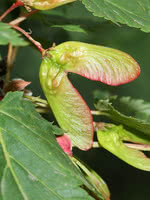 Douglas Maple
ONLY AVAILABLE BY CONTRACT GROW
Douglas Maple is a fast growing, long lived, ornamental tree. It can take on a shrubby or multi-stemmed form with densely packed leaves, making it an excellent tree for privacy screens and hedges. In the fall, the leaves make a brilliant change to red, orange...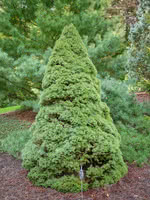 Dwarf Alberta Spruce
SOLD OUT
Dwarf Alberta Spruce is a small tree with very dense foliage. It is an attractive specimen in landscape designs and small yards. This plant naturally grows into the classic conical shape, but responds well to shearing and pruning. Dwarf Alberta Spruce is hardy...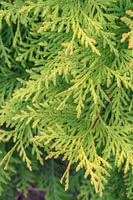 Eastern White Cedar (Arborvitae)
SOLD OUT
Eastern White Cedar is a slender growing conifer often used as a decorative tree or a hedge. This tree is an effective privacy screen even in winter and a great long term solution to urban crowding or a drab yard...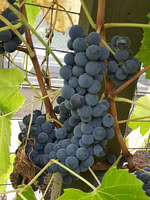 F130 Grape
SOLD OUT
This variety is cold-hardy and will produce bluish red clusters of grapes that are great for jellies and juice. Grapes have long been used to cover arbors and trellises. Grapes are a higher maintenance species requiring regular care and pruning. Unchecked and... Frank Hazelnut
SOLD OUT
The Frank Hazelnut produces nuts that are medium size and ripen mid August. This is one of the best eating hazelnuts for cold climates. It is a medium size deciduous tree from Saskatchewan, Canada. It is a productive tree that has been tested as both a pollinizer...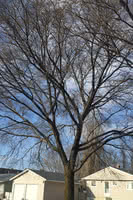 Freedom Japanese Elm
SOLD OUT
Freedom Japanese Elm is great for anyone who doesn't have a lot of time to maintain their trees as it doesn't drop many seeds. It has beautiful dark green foliage and is resistant to Dutch Elm Disease. Instead of having an irregular and broad-shaped crown as other...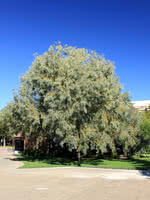 Golden Willow
SOLD OUT
Golden Willow is an attractive accent tree that's perfectly suited for those moist or wet areas on your property. This fast growing tree has glossy narrow leaves that turn gold in fall, furrowed brown bark and showy gold branches that especially stand out in...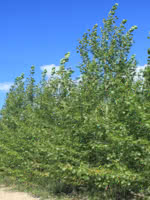 Green Giant / Brooks #6 Poplar
SOLD OUT
Green Giant Poplar - also known as Brooks #6 - is a large, prairie hardy tree ideally suited to shelterbelts. Cold tolerance, drought tolerance, and disease resistance make the green giant a perfect fit for anyone looking for a low maintenance tree. This hybrid...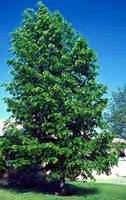 Griffin / Brooks #1 Poplar
SOLD OUT
Griffin Poplar is a tall, fast-growing, deciduous tree. One of the oldest prairie hardy varieties developed at the Brooks Research Centre, Griffin Poplar is a great shelterbelt tree. It is adaptable in many soil conditions. Too large for a normal city lot, Griffin...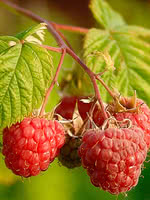 Heritage Raspberry
SOLD OUT
The Heritage Raspberry is a deciduous thorny shrub that produces two crops in the year: a moderate one in early summer followed by a heavier harvest in the fall. This plant blooms with white, rose-like flowers and fruits with extra-sweet, dark red berries that are...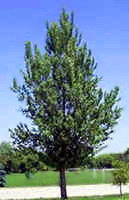 Hill Poplar
ONLY AVAILABLE BY CONTRACT GROW
Hill Poplar is a hardy, fast-growing tree with a narrow crown. Hill Poplars function well as a privacy screen or windbreak. This attractive, long-lived shade tree is a great choice for home and commercial consumers alike, as it requires little pruning or...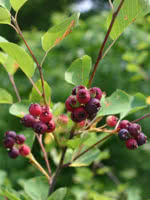 Honeywood Saskatoon
SOLD OUT
Honeywood Saskatoon, also known as Service Berries, is excellent at producing an abundance of blue-coloured berries in mid-summer and has dark green foliage that turns yellow in the fall. It is quite large making it a perfect shrub in your backyard garden. Often...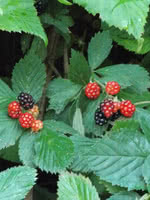 Illini Hardy Blackberry
SOLD OUT
The Illini Hardy Blackberry was developed in Illinois for northern growers, and produces a large, juicy blackberry with medium-sweet flavor. The berries are ready for harvest in midsummer, and go great in preserves. The Illini Hardy Blackberry, or the Illinois...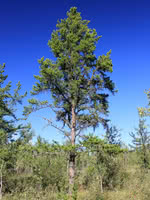 Jack Pine
SOLD OUT
Jack Pine is a cold tolerant native species that can survive on dry, sandy or gravelly sites. Similar to Scots Pine, though somewhat larger, Jack Pine is known for its yellow-green needles, spreading crown, and irregular form. If you have a tough site to plant...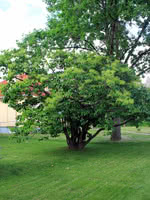 Japanese Tree Lilac
SOLD OUT
Japanese Tree Lilac is an attractive, heavy-flowering lilac with fragrant white blossoms. It can be pruned to a single stem or grown as a multi-stemmed shrub. Japanese Tree Lilac's dark reddish-brown bark peels as the tree ages, creating visual appeal for any...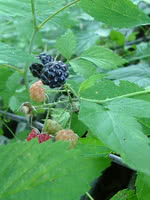 Jewel Raspberry
SOLD OUT
The Jewel Raspberry is one of the most popular black raspberry varieties, as it is consistently high-yielding and produces large, firm, and sweet berries. This cultivar is among one of the first raspberries to ripen each year, with berries ready for harvest in...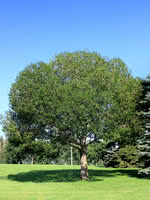 Laurel Leaf Willow
SOLD OUT
Laurel Leaf Willow is a round-shaped tree with attractive dark green leaves. This cold hardy tree can withstand bitter winters and still put on lots of growth every summer. Laurel Leaf Willow prefers moist to wet ground and full sun, though it can tolerate...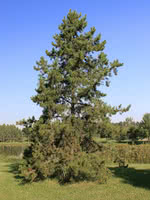 Lodgepole Pine
SOLD OUT
Lodgepole pine is well suited to western Canada's climate and growing conditions. This native pine noted for its rapid growth among evergreen. And as one of Canada's hardiest conifers, it can tolerate cold, shade, drought, and poor soil conditions...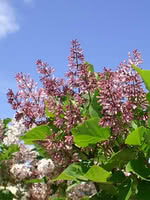 Manchurian Lilac (Korean Lilac)
SOLD OUT
Manchurian Lilac (aka Korean Lilac) is a medium-sized shrub that features fragrant clusters of pale purple flowers in late spring. Manchurian Lilac is less affected by disease than other lilacs and will create a beautiful border, hedge, or privacy screen. If...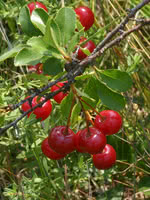 Mongolian Cherry
ONLY AVAILABLE BY CONTRACT GROW
Mongolian Cherry is a hardy shrub that is often grown as an ornamental. This plant makes an attractive flowering hedgerow that requires little maintenance. The dark red cherries are tart and desirable for baking, wine-making, and canning. This shrub is popular with...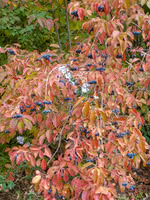 Nannyberry
SOLD OUT
Nannyberry is a hardy shrub known for attracting wildlife. Its clusters of white flowers and tasty berries are suitable for bees, birds, and other animals. Nannyberry is also used in urban yards and landscaping. This shrub makes a beautiful ornamental and is...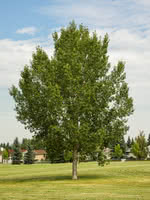 Northwest Poplar
SOLD OUT
Northwest Poplar is a large and fast-growing tree. Due to its wide spread, this tree makes a great shade or shelterbelt tree. Northwest Poplar tolerates partial shade, drought, and most types of soil. This poplar produces no fuzz. Northwest Poplar continues to...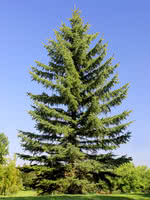 Norway Spruce
SOLD OUT
Norway Spruce is a large, openly branched evergreen recognized by its drooping branchlets and large cones. This hardy, adaptable tree thrives in moist conditions, but will grow in clay or sandy soils. Norway Spruce is the fastest growing spruce we carry but...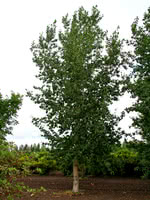 Okanese Poplar
SOLD OUT
Okanese Poplar is an excellent shelterbelt tree. It's one of the hardiest and fastest growing trees you can plant on the prairies. This hybrid poplar is disease resistant, drought and cold tolerant, produces no fuzz, and requires little maintenance. Okanese poplar...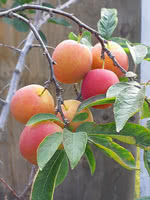 Patterson Pride Plum
SOLD OUT
Patterson Pride Plum is a fruit tree with weeping branches. This hybrid plant needs a wild plum tree for cross pollination before it can produce fruit. Patterson Pride's fruit is much larger and sweeter than other hardy plums, excellent for fresh eating, baking...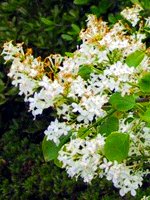 Peking Lilac
SOLD OUT
Peking Lilac is a small, deciduous shrub. This robust species is not as fragrant as Common Lilac, but it makes up for it with its large clusters of beautiful white flowers in the spring. Perfect for any yard, Peking Lilac does not sucker, seldom suffers from...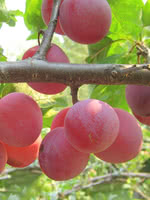 Pembina Plum
SOLD OUT
Pembina Plum is an upright tree great for backyards and rural areas. This hardy tree needs to be pollinated by a wild plum tree in order to produce high yields of fruit. We recommend pairing Pembina with Patterson Pride Plum as these varieties cross pollinate well...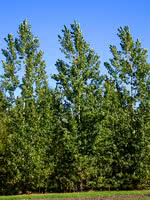 Prairie Sky Poplar
SOLD OUT
Prairie Sky Poplar is a fast-growing columnar hybrid poplar developed at Agriculture and Agri-food Canada's Morden Research Station. It is adaptable to many soil conditions and seems to do best in the southern-most parts of the prairies. Good as a shade or...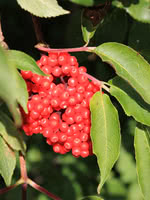 Red Elderberry
ONLY AVAILABLE BY CONTRACT GROW
Red Elderberry is an attractive, medium-sized deciduous shrub. It produces clusters of white flowers in the spring and bright red berry-like drupes, which provide beautiful contrast against its coarse, textured green foliage. Red Elder can be pruned as a...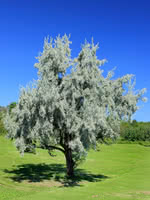 Russian Olive
SOLD OUT
Russian Olive is a medium-sized deciduous tree that has attractive silvery coloured foliage with small yellow flowers that emit a fragrant sweet smell. It is drought and salt tolerant, and works well as a shelterbelt species. Russian Olive can also be used to...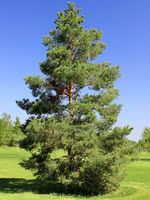 Scots Pine (Scotch Pine)
SOLD OUT
Scots Pine is a hardy, adaptable evergreen. This large tree has an oval crown and distinctively orange bark when mature. Scots Pine prefers dry to average moisture levels with very well-drained soil. It is the most common pine tree used in shelterbelts and...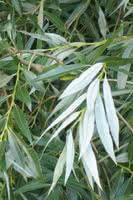 Silver Leaf Willow
SOLD OUT
Native to North America, Silver Leaf Willow has orangish bark and long, silvery grey leaves. Bees and other insects are attracted to its flowers. Popular as an ornamental tree for parks, it is also used as a shelterbelt species. It may not be as cold hardy as...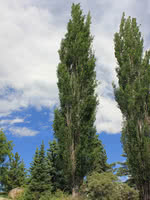 Swedish Aspen
SOLD OUT
Swedish Aspen is an extremely fast growing columnar aspen tree. It's ideally suited for urban settings where space is limited such as privacy screens or along the edges of driveways. Swedish aspen produces no fluff and is less prone to suckering than tower poplar...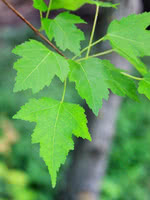 Tatarian Maple
SOLD OUT
Tatarian Maple is a small, multi-stemmed tree that features attractive red foliage in fall. In addition to its outstanding autumn color, it is also one of the first trees to leaf out in the spring. Tatarian Maple makes a good specimen tree for for small...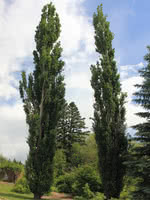 Tower Poplar
SOLD OUT
Tower Poplar is a fast growing, tall columnar tree that closely resembles the Swedish aspen. It produces no fluff, requires minimal maintenance and no pruning. It can tolerate drought and thrives in poor soils. Tower Poplar is most commonly planted in shelterbelts...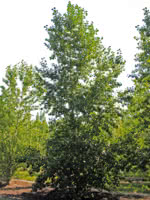 Tristis Poplar
SOLD OUT
Tristis Poplar is a large deciduous tree. It is cold hardy, disease resistant, and relatively drought tolerant. Tristis Poplar loses its leaves later in the year than other Poplars, making it a great ornamental tree in fall. It's known for its strongly scented...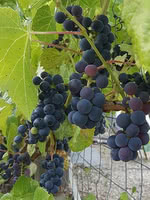 Valiant Grape
SOLD OUT
Reported to be one of the hardiest of all grape varieties. This variety will produce bluish red clusters of grapes that are great for jellies and juice. Grapes have long been used to cover arbors and trellises. This is a self-pollinating variety so only one...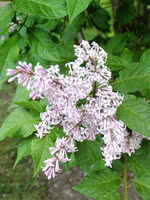 Villosa Lilac
SOLD OUT
Popular Hedge Species! Villosa Lilac is a relatively large and cold hardy shrub. It provides excellent privacy and wind protection. Its fragrant, pink flowers grow in clusters at the end of its branches during mid to late summer and fade to a light pink over...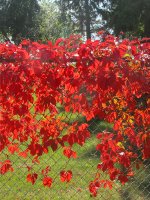 Virginia Creeper
SOLD OUT
Virginia Creeper is a fast-growing, climbing vine. Its root-like tendrils attach themselves to any non-smooth surface, even brick, but will also grow as a ground cover. Virginia Creeper makes a beautiful ornamental plant for your garden; its attractive foliage...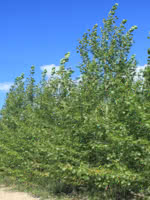 Walker Poplar
SOLD OUT
Walker Poplar is a hardy prairie tree. A common shade tree, this fast-growing hybrid poplar works well in urban yards or shelterbelts. In the past, Walker was one of the most popular species used in shelterbelts due to the wide spread that reduced the total...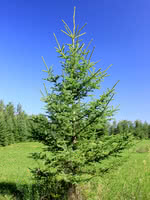 White Spruce
SOLD OUT
White Spruce is a hardy, long-lived evergreen tree. It can grow in many soil types and moisture levels. And it can even tolerate significant amounts of shade. White spruce requires little maintenance and is well suited for use in shelterbelts, privacy screens...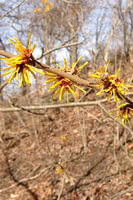 Witch Hazel
SOLD OUT
Witch Hazel is a deciduous shrub, or small tree, with a short trunk, bearing numerous spreading, crooked branches. The seeds grow in a long, wooden pod with two to four seeds per pod. Upon ripening, the pods burst, firing the seeds up to 30km an hour. The...