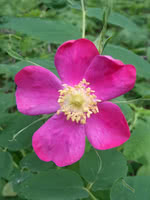 Alberta Wild Rose (Prickly Rose)
Alberta's provincial flower, Alberta Wild Rose, is a small, deciduous shrub known for its beautiful pink blooms and thick, thorny stems. Native to Canada, this hardy perennial is an attractive addition to any garden. Wildlife enjoy its edible rosehips, which...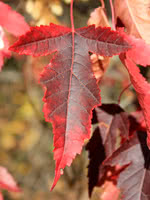 Amur Maple
SAVE UP TO 14%
Amur Maple is an incredibly colorful tree. As summer turns to fall, it's bright green leaves turn fiery red. This tree is perfectly suited for urban environments. It's small size allows you to plant it in city yards and beneath power lines. Amur maple can also...
Assiniboine Poplar
SAVE UP TO 33%
Assiniboine poplar is a tall, fast growing tree that has a shapely oval form and dense foliage. This hybrid poplar is a male clone and produces no fuzz or fluff. Assiniboine poplar can handle tough conditions such as: urban pollution, environmental salt, drought...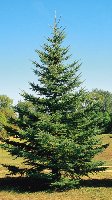 Black Hills Spruce
Black Hills Spruce is a subspecies of White Spruce native to the Black Hills of South Dakota. It has a strongly conical form, slower growth rate and denser foliage than typical white spruce, making it preferable as a specimen tree for smaller suburban lawns. It...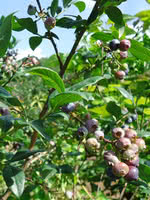 Blue Crop Blueberry
SAVE UP TO 33%
Blue Crop Blueberry is a high yielding, commercial highbush blueberry variety that is widely planted. If you're lucky enough to live in a suitable climate zone, Blue Crop Blueberry is a great choice. Its very large berries taste amazing. They are very firm and...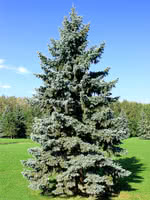 Blue Spruce (Colorado Spruce)
SAVE UP TO 50%
Blue Spruce, also known as Colorado Spruce, is our best selling tree! People are attracted to the distinctive blue-green color of this hardy evergreen. But Blue Spruce really stands out because it is tough, long lived, and adapted to a wide range of growing...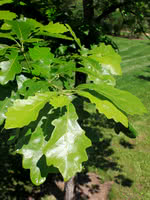 Bur Oak
SAVE UP TO 73%
Bur Oak has a wide distribution but is one of the only oaks that will grow well on the prairies. Bur Oak produces deeply lobed, dark green leaves that turn golden yellow to brown in the fall. Its acorns are round and half enclosed by a mossy fringed cup...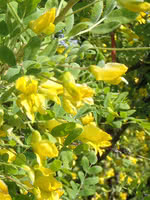 Common Caragana
SAVE UP TO 33%
Common Caragana is a fast growing shrub that's known for its exceptional hardiness and drought tolerance. Although it's most commonly planted in shelterbelts, Common Caragana is also an excellent hedge or feature shrub. Note: in warmer areas, this species can be...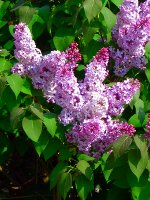 Common Purple Lilac
Common Purple Lilac is a popular lilac. This large shrub provides excellent privacy or wind protection in an attractive package. Lilac flowers are pleasantly fragrant and add a beautiful lavender colour to your property. Common Purple Lilac is cold hardy, easy...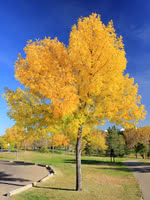 Green Ash
SAVE UP TO 30%
Green ash is a fast growing tree with incredible golden yellow leaves in fall. This tree is native to the prairies and is well suited for drought and cold. Green ash can also tolerate soil compaction, periods of flooding and a wide variety of soils including...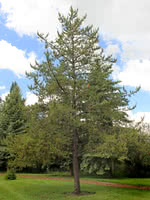 Jack Pine
SAVE UP TO 25%
Jack Pine is a cold tolerant native species that can survive on dry, sandy or gravelly sites. Similar to Scots Pine, though somewhat larger, Jack Pine is known for its yellow-green needles, spreading crown, and irregular form. If you have a tough site to plant...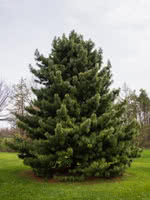 Korean Pine
Korean Pine is an attractive conifer suitable for shelterbelts, privacy screens, and ornamental planting. This tree is especially prized for its pine nuts. Korean Pine nuts are larger than most other species. They can be used in salads, pesto sauce, and other...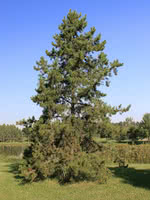 Lodgepole Pine
SAVE UP TO 61%
Lodgepole pine is well suited to western Canada's climate and growing conditions. This native pine noted for its rapid growth among evergreen. And as one of Canada's hardiest conifers, it can tolerate cold, shade, drought, and poor soil conditions...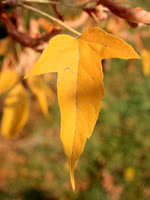 Manitoba Maple
SAVE UP TO 33%
Manitoba Maple is a fast growing tree with great fall color. These trees are typically grown as feature or shade trees on larger properties and acreages. Manitoba maples are cold hardy and tolerant of a wide range of soil moisture conditions. Note that Manitoba...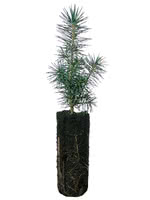 Meyers Spruce
SAVE UP TO 68%
Meyer's Spruce is a popular accent tree with a distinctive and refined pyramidal form. This tree resembles Blue Spruce with its flaking bark and bluish-green needles. Meyer's Spruce can tolerate very dry conditions. This species is deer resistant...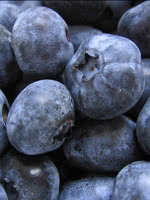 Northblue Blueberry
SAVE UP TO 33%
Northblue Blueberry produces the best tasting of the half-high blueberries we carry. It's a cross between a highbush and a lowbush variety, which makes it suitable for smaller yards. For its size, Northblue Blueberry produces abundant quantities of large, firm...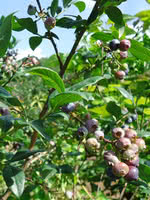 Northland Blueberry
SAVE UP TO 33%
Northland Blueberry is the hardiest of the half-high highbush blueberries. It's also the best looking. In fact, it is frequently planted as an ornamental. Northland Blueberry produces large quantities of medium-size berries that taste amazing but are on the softer...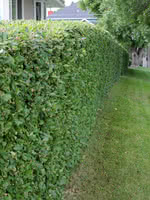 Peking Cotoneaster
SAVE UP TO 40%
Peking Cotoneaster is a medium-sized shrub that is well adapted to colder climates. Best suited for use as a hedge, Peking Cotoneaster has dark green foliage that turns a stunning reddish orange in the fall. Hardy fruit guru, Bernie Nikolai (DBG Fruit Growers...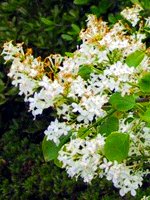 Peking Lilac
Peking Lilac is a small, deciduous shrub. This robust species is not as fragrant as Common Lilac, but it makes up for it with its large clusters of beautiful white flowers in the spring. Perfect for any yard, Peking Lilac does not sucker, seldom suffers from...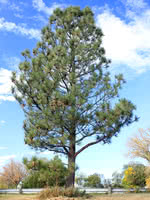 Ponderosa Pine
SAVE UP TO 20%
Ponderosa Pine is the tallest known pine in North America. This popular evergreen has distinctive, textured bark and long needles. This makes it an excellent ornamental tree for landscaping on large properties. Ponderosa Pine is hardy in a variety of soil...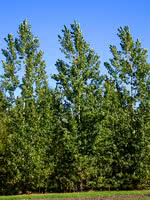 Prairie Sky Poplar
Prairie Sky Poplar is a fast-growing columnar hybrid poplar developed at Agriculture and Agri-food Canada's Morden Research Station. It is adaptable to many soil conditions and seems to do best in the southern-most parts of the prairies. Good as a shade or...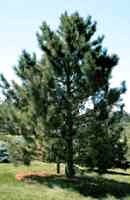 Red Pine
Red Pine is a large evergreen with an open, rounded crown and red bark when mature. This long-lived tree thrives in well-drained soils. Red Pine makes an attractive landscaping tree for larger properties...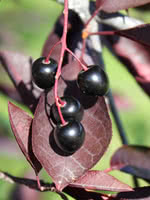 Schubert Chokecherry
SAVE UP TO 38%
Schubert Chokecherry is similar to a western chokecherry but features beautiful purple-red leaves throughout the summer. This small, flowering tree is perfectly suited as an ornamental for city yards. The fruit from this tree is a staff favourite for jams...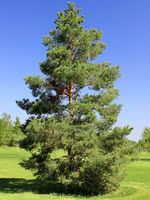 Scots Pine (Scotch Pine)
Scots Pine is a hardy, adaptable evergreen. This large tree has an oval crown and distinctively orange bark when mature. Scots Pine prefers dry to average moisture levels with very well-drained soil. It is the most common pine tree used in shelterbelts and...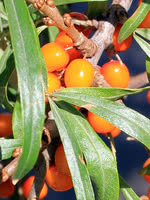 Sea Buckthorn
Sea Buckthorn is a nitrogen fixing shrub that produces attractive berries high in vitamin C. While we can't confirm claims that the berries are effective in treating various ailments, many people believe consuming the berries helps with arthritis, infections...
Silver Buffalo Berry
Silver Buffalo Berry is a cold hardy, ornamental shrub that is commonly used in the first row of shelterbelts instead of caragana or lilac. It features subtle yellow flowers, smooth grey bark, and red fruit. On occasion orange fruit is produced and rarely a yellow...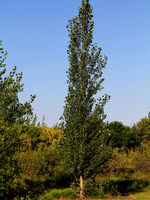 Sundancer Poplar
Sundancer Poplar is a new, fast-growing, disease-resistant, and columnar variety of poplar tree developed at the Agroforestry Center in Indian Head, SK. It is adaptable in many soil conditions and seems to do well across the prairies with extra popularity...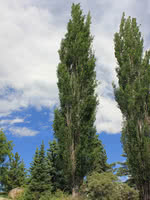 Swedish Aspen
SAVE UP TO 57%
Swedish Aspen is an extremely fast growing columnar aspen tree. It's ideally suited for urban settings where space is limited such as privacy screens or along the edges of driveways. Swedish aspen produces no fluff and is less prone to suckering than tower poplar...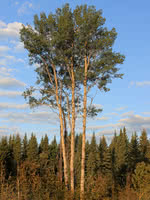 Trembling Aspen
SAVE UP TO 54%
Trembling Aspen is a hardy, fast-growing tree. It is known for its unique "trembling" leaf movement and beautiful bark that whitens with age. This native shade tree tolerates a range of growing conditions and requires little maintenance...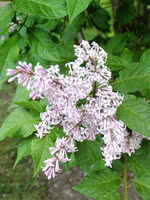 Villosa Lilac
SAVE UP TO 30%
Popular Hedge Species! Villosa Lilac is a relatively large and cold hardy shrub. It provides excellent privacy and wind protection. Its fragrant, pink flowers grow in clusters at the end of its branches during mid to late summer and fade to a light pink over...
THE FOLLOWING PRODUCTS ARE CURRENTLY UNAVAILABLE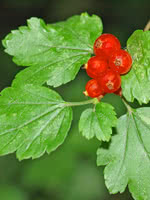 Alpine Currant
SOLD OUT
Alpine Currant is a great shrub to plant along sidewalks, near building or at your property boundary as a hedge or accent species. It is widely used by commercial landscapers in parking lots and near buildings because of its hardiness, attractiveness, and pollution...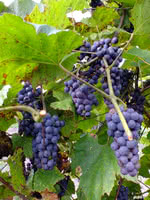 Amur Grape
SOLD OUT
The Amur Grape is an ornamental grape that fruits dark, sour, juicy grapes later in the fall. It is native to Asia, and found growing wild in Russia and China. It's one of the most cold-hardy grape varieties, prized for its foliage that turns from a bright green...
Bearberry
SOLD OUT
Bearberry is a dwarf shrub known for its creamy pink flowers and red edible fruits. It is great as a filler in gardens and flowerbeds in place of invasive ground cover plants, like English Ivy. Bearberry will attract hummingbirds, butterflies and bees to...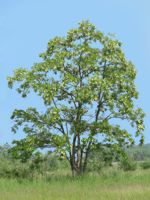 Black Locust
SOLD OUT
Black Locust is an attractive tree. Its distinctive leaves are made of about a dozen bright green leaflets. It also notable for its fragrant white flowers, which smell of citrus. Black Locust can grow in many situations, but prefers dry areas with lots of sun...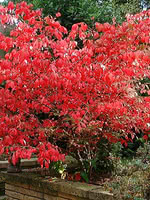 Burning Bush
NOT AVAILABLE THIS SEASON
Burning Bush is a unique shrub whose leaves turn firey red in the fall. You can plant it in rows to make a hedge or on its own. Burning Bush requires little maintenance and thrives in just about any kind of soil, which makes it a good choice for inexperienced...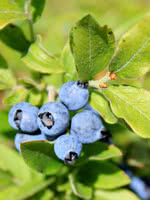 Common Blueberry
NOT AVAILABLE THIS SEASON
Common Blueberry is an August maturing berry that is wonderfully flavorful and contain more antioxidants by volume than the highbush varieties. They'll give your baked goods a wonderful pop of flavor. It isn't as large, pretty, or high yielding as the other...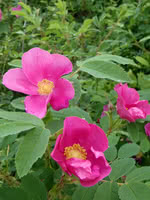 Common Wild Rose
SOLD OUT
Common Wild Rose produces attractive pink roses and edible bright red rosehips. This tough, native shrub is a beautiful, low-maintenance addition to any garden. Common Wild Rose is very similar to Alberta (Prickly) Wild Rose but with fewer thorns...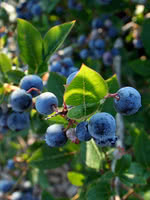 Elliott Blueberry
NOT AVAILABLE THIS SEASON
Elliott Blueberry is a very high yielding, commercial highbush blueberry variety. If you're lucky enough to live in a suitable climate zone, Elliott Blueberry will serve you well. Its medium-size berries mature late in the summer and have a mild flavor. The berries...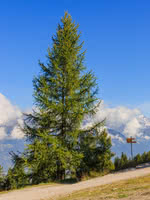 European Larch
NOT AVAILABLE THIS SEASON
The European Larch is a large deciduous conifer that, like most larches, drops its needles before winter. Known for the soft green foliage that turns a stunning golden yellow in the fall. While young, it has a pyramidal shape with horizontal branching and drooping...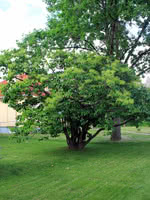 Japanese Tree Lilac
NOT AVAILABLE THIS SEASON
Japanese Tree Lilac is an attractive, heavy-flowering lilac with fragrant white blossoms. It can be pruned to a single stem or grown as a multi-stemmed shrub. Japanese Tree Lilac's dark reddish-brown bark peels as the tree ages, creating visual appeal for any...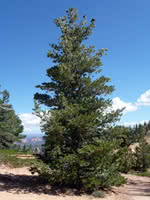 Limber Pine
NOT AVAILABLE THIS SEASON
Limber Pine is hardy, long-lived tree found specifically in sub-alpine areas of North America. This slow-growing evergreen will attract birds and squirrels to your property. Limber Pine will be a beautiful ornamental tree for your yard. We do not grow this...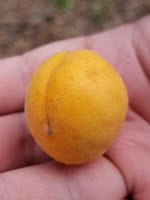 Manchurian Apricot
SOLD OUT
Manchurian Apricot is a winter-hardy relative of the native plum. This tree can stand some drought, but will not handle standing water or saturated moist soils. It can be used in shelterbelts, hedges, or as an ornamental. Manchurian Apricot will also attract...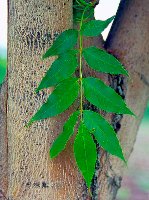 Manchurian Ash
NOT AVAILABLE THIS SEASON
Manchurian Ash is a medium-sized deciduous tree. Like Black Ash, it has long, serrated green leaves, but matches White Ash in height. This hardy tree is a great choice for a shade tree on smaller home properties. Manchurian Ash prefers moister soils, making...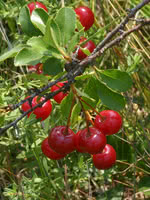 Mongolian Cherry
ONLY AVAILABLE BY CONTRACT GROW
Mongolian Cherry is a hardy shrub that is often grown as an ornamental. This plant makes an attractive flowering hedgerow that requires little maintenance. The dark red cherries are tart and desirable for baking, wine-making, and canning. This shrub is popular with...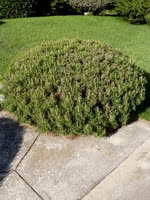 Mugo Pine
NOT AVAILABLE THIS SEASON
Mugo Pine is an extremely hardy, adaptable evergreen. This long-lived, slow-growing tree is relatively low maintenance, but prefers full sunlight. Mugo Pine is perfect for small city lots...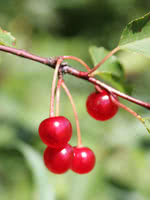 Pin Cherry
SOLD OUT
Pin Cherry is a small tree that produces clusters of white blossoms in spring followed by bright red berries that ripen through the summer. The attractive red color of the leaves in the fall is an added bonus. The fruit is quite sour when eaten fresh but is...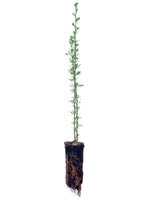 Pygmy Caragana
ONLY AVAILABLE BY CONTRACT GROW
Pygmy Caragana is a shrub that is related to Common Caragana and has a compact size that is suitable for yards with limited space. Its size is perfect for landscaping and decorative hedges, and requires little maintenance. This nitrogen fixer has fine-textured...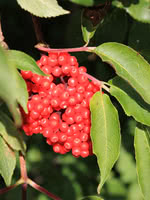 Red Elderberry
SOLD OUT
Red Elderberry is an attractive, medium-sized deciduous shrub. It produces clusters of white flowers in the spring and bright red berry-like drupes, which provide beautiful contrast against its coarse, textured green foliage. Red Elder can be pruned as a...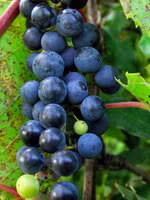 Riverbank Grape
NOT AVAILABLE THIS SEASON
The Riverbank Grape, also known as the Frost Grape, or Wild Grape, is a cold-hardy variety that produces fragrant white flowers in the spring and then tart, purple grapes late in the summer. The Riverbank Grape is a vigorous grower that attracts lots of...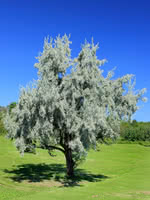 Russian Olive
SOLD OUT
Russian Olive is a medium-sized deciduous tree that has attractive silvery coloured foliage with small yellow flowers that emit a fragrant sweet smell. It is drought and salt tolerant, and works well as a shelterbelt species. Russian Olive can also be used to...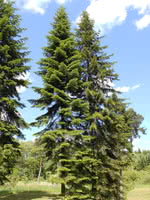 Siberian Fir
SOLD OUT
Siberian Fir is an evergreen tree best known for its strong aroma. This tree's needles are popular for essential oils and aromatherapy. It also grows softwood that is used for furniture and wood pulp. This species is very cold hardy and shade tolerant. This...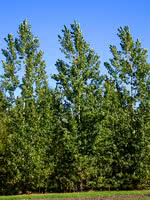 Skyfest Poplar
NOT AVAILABLE THIS SEASON
Bred by Jeffries Nurseries, the Skyfest is a fast growing, tall cottonwood with excellent disease resistance and adaptability to many kinds of soil. In the fall, its leaves turn a golden yellow. This species has an aggressive root system, making it unsuitable... Somerset Grape
NOT AVAILABLE THIS SEASON
The Somerset Grape is a cold-hardy variety that is sweet, with a hint of a strawberry taste and tender skin, making them excellent for fresh eating. The grapes grow throughout the summer and go from a light pink and deepen in color as they ripen. The grapes will be...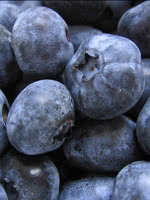 Top Hat Blueberry
NOT AVAILABLE THIS SEASON
Top Hat Blueberry is ideal for decks, patios, and small yards. This compact blueberry produces loads of good tasting berries early in the summer. This variety's berries are well suited for baking. While Top Hat Blueberry is self-pollinating, we recommend pairing...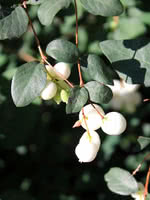 Western Snowberry
NOT AVAILABLE THIS SEASON
Like the Common Snowberry, the Western Snowberry is a small shrub with pink flowers useful for feeding livestock and preventing erosion. Unlike the common species, however, the Western Snowberry is much more suited to wet conditions, capable of persevering through... Wild Snowberry
ONLY AVAILABLE BY CONTRACT GROW
Wild Snowberry is a mix of Common Snowberry and Western Snowberry. Each shrub's size, flower, and berry colour may vary. This plant is abundant across the prairies. It can be planted alone or as a hedge in small yards. This shrub's ornamental berries persist...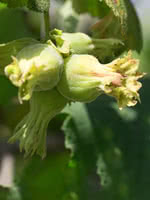 Yamhill Hazelnut
NOT AVAILABLE THIS SEASON
The Yamhill Hazelnut is a tasty, relatively cold hardy hazelnut that is a popular European variety. It is known to be a strong grower and has moderate eastern filbert blight resistance. It is a suitable pollinizer for the York Hazelnut. Introduced by Oregon...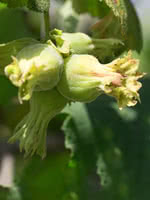 York Hazelnut
NOT AVAILABLE THIS SEASON
The York Hazelnut is a high yielding deciduous tree. It produces delicious medium to large sized nuts that are great for eating or making a paste. Known to be resistant to eastern filbert blight. It has a long bloom season and is compatible with most cultivars...