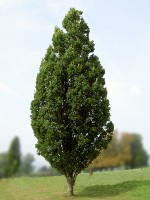 Cypress Oak
SAVE UP TO 80%
Cypress Oak is an upright, columnar tree that is well suited as a privacy screen or for lining paths and driveways. The upright branch angle causes it to have a narrower spread which makes it suitable for areas with limited space. It has been described as having an...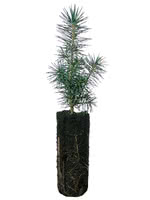 Meyers Spruce
SAVE UP TO 19%
Meyer's Spruce is a popular accent tree with a distinctive and refined pyramidal form. This tree resembles Blue Spruce with its flaking bark and bluish-green needles. Meyer's Spruce can tolerate very dry conditions. This species is deer resistant...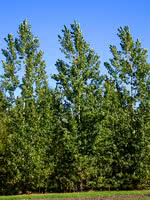 Prairie Sky Poplar
SAVE UP TO 33%
Prairie Sky Poplar is a fast-growing columnar hybrid poplar developed at Agriculture and Agri-food Canada's Morden Research Station. It is adaptable to many soil conditions and seems to do best in the southern-most parts of the prairies. Good as a shade or...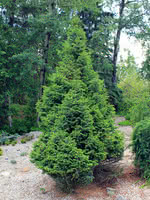 Serbian Spruce
Serbian Spruce is a medium-sized evergreen. Even in the absence of competition, Serbian Spruce has a slender form. It is commonly used as an ornamental tree due to its columnar shape. Serbian Spruce can grow on a variety of sites, but it prefers moist drained...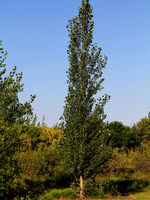 Sundancer Poplar
SAVE UP TO 41%
Sundancer Poplar is a new, fast-growing, disease-resistant, and columnar variety of poplar tree developed at the Agroforestry Center in Indian Head, SK. It is adaptable in many soil conditions and seems to do well across the prairies with extra popularity...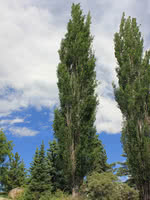 Swedish Aspen
SAVE UP TO 46%
Swedish Aspen is an extremely fast growing columnar aspen tree. It's ideally suited for urban settings where space is limited such as privacy screens or along the edges of driveways. Swedish aspen produces no fluff and is less prone to suckering than tower poplar...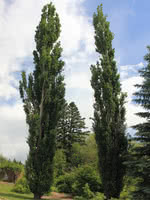 Tower Poplar
SAVE UP TO 33%
Tower Poplar is a fast growing, tall columnar tree that closely resembles the Swedish aspen. It produces no fluff, requires minimal maintenance and no pruning. It can tolerate drought and thrives in poor soils. Tower Poplar is most commonly planted in shelterbelts...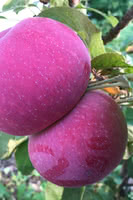 Treasured Red Columnar Apple
SAVE UP TO 32%
This exciting new Columnar Apple has an exquisite texture and a flavour similar to a McIntosh apple. Super compact, they fit easily into small urban gardens or along fences and decks. Unlike traditional apples that grow on horizontal branches, the Treasured Red...
THE FOLLOWING PRODUCTS ARE CURRENTLY UNAVAILABLE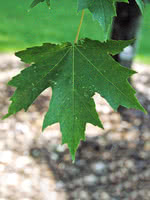 Armstrong Maple
NOT AVAILABLE THIS SEASON
The Armstrong Maple has a narrow, upright columnar growth habit. This stunning tree has showy leaves that range from yellow, orange to red in the fall. It is an attractive hybrid of the Red Maple and Silver Maple. It prefers acidic soils and will have some...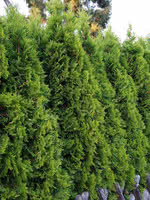 Brandon Cedar
COMING SOON
The Brandon Cedar is a columnar evergreen with soft, dense foliage that retains its bright green color all year round. It makes for a great vertical accent on your property or as part of a hedge, it is suitable for urban gardens due to its size and it is highly...
Dakota Pinnacle Birch
ONLY AVAILABLE BY CONTRACT GROW
Dakota Pinnacle Birch is a hardy deciduous tree with a columnar to narrowly pyramidal form. It makes a beautiful accent tree, and Dakota Pinnacle Birch is insect resistant and drought tolerant. Dakota Pinnacle Birch features smooth white bark and dark, green...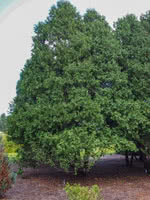 Eastern White Cedar (Arborvitae)
NOT AVAILABLE THIS SEASON
Eastern White Cedar is a slender growing conifer often used as a decorative tree or a hedge. This tree is an effective privacy screen even in winter and a great long term solution to urban crowding or a drab yard...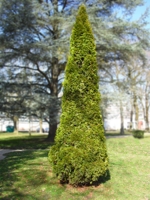 Emerald Cedar
NOT AVAILABLE THIS SEASON
Emerald Cedar makes a great addition to landscapes, and is often used to form tight hedges or privacy screens. The thick scale-like foliage adds texture and colour to yards and is commonly used to line driveways. Unlike other cedars it retains its green colour...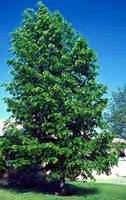 Griffin / Brooks #1 Poplar
NOT AVAILABLE THIS SEASON
Griffin Poplar is a tall, fast-growing, deciduous tree. One of the oldest prairie hardy varieties developed at the Brooks Research Centre, Griffin Poplar is a great shelterbelt tree. It is adaptable in many soil conditions. Too large for a normal city lot, Griffin... Medora Juniper
NOT AVAILABLE THIS SEASON
Medora Juniper has an upright, narrow growth habit that makes it well suited as either an accent shrub or as a privacy hedge or screen. It is a compact, pyramidal evergreen shrub with blue-green foliage that lasts year round. It is low maintenance, drought...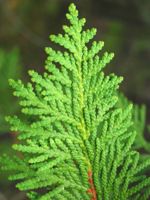 Skybound Cedar
NOT AVAILABLE THIS SEASON
The Skybound Cedar is a newer variety that is usually hardier than the Brandon Cedar and richer in color. The dark green, scale-like foliage maintain their needles and color throughout the winter. Cedars enjoy average to moist soil conditions and should not be...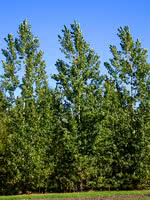 Skyfest Poplar
NOT AVAILABLE THIS SEASON
Bred by Jeffries Nurseries, the Skyfest is a fast growing, tall cottonwood with excellent disease resistance and adaptability to many kinds of soil. In the fall, its leaves turn a golden yellow. This species has an aggressive root system, making it unsuitable...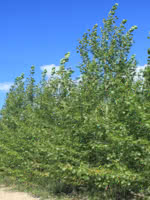 Walker Poplar
NOT AVAILABLE THIS SEASON
Walker Poplar is a hardy prairie tree. A common shade tree, this fast-growing hybrid poplar works well in urban yards or shelterbelts. In the past, Walker was one of the most popular species used in shelterbelts due to the wide spread that reduced the total...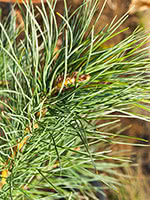 Western White Pine
NOT AVAILABLE THIS SEASON
The Western White Pine is long-long lived conifer that featuring a narrow, open, conical crown of horizontal branches with blue-green needles. It is native to the Pacific Northwest in the mountain region. As a timber species the Western White Pine is highly valued...