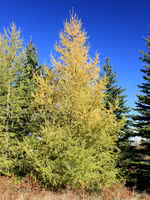 Siberian Larch
SAVE UP TO 40%
Siberian Larch is a large, cold hardy conifer. Like the Tamarack, its needles turn golden yellow and drop in the fall, and it is able to handle saturated soils. If you are looking for a long-lived tree for your large property or shelterbelt with quite wet soil...
Douglas Fir
SAVE UP TO 20%
Douglas Fir is a large coniferous tree with a pyramidal shaped crown. This attractive feature tree, with its distinctive drooping cones, is perfect for any grower who has lots of space and lives in a warm enough region. Douglas Firs make exceptional Christmas...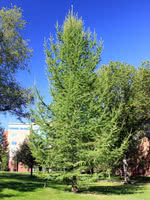 Tamarack Larch
SAVE UP TO 29%
Tamarack is a small to medium-sized native conifer tree featuring needles that turn an attractive gold before dropping in the fall. This cold-tolerant tree grows well in very wet conditions, as long as it is exposed to full sun. Staff Favorite...
THE FOLLOWING PRODUCTS ARE CURRENTLY UNAVAILABLE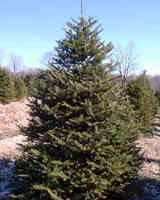 Canaan Fir
ONLY AVAILABLE BY CONTRACT GROW
Canaan Fir, which is closely related to Balsam Fir, is known for its open-growing patterns and strong branches. Canaan Fir is highly adaptable to many soil conditions and thrives in both shaded areas or direct sunlight. It is commonly used for Christmas tree...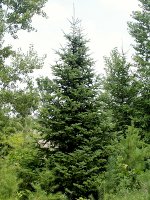 Balsam Fir
SOLD OUT
Balsam Fir - best known as a "Christmas tree" - doesn't just look great in living rooms; it's a terrific tree for your yard too! This fir grows tall and narrow. Balsam Fir is cold hardy, shade tolerant, and will thrive in most soil types and moisture levels...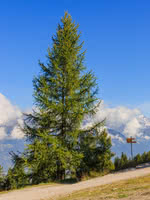 European Larch
NOT AVAILABLE THIS SEASON
The European Larch is a large deciduous conifer that, like most larches, drops its needles before winter. Known for the soft green foliage that turns a stunning golden yellow in the fall. While young, it has a pyramidal shape with horizontal branching and drooping...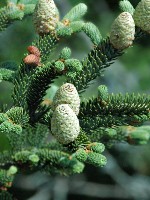 Fraser Fir
NOT AVAILABLE THIS SEASON
Fraser Fir is a great choice for a Christmas tree, or as an addition to your landscape. It retains its needles when cut, has good branch strength, and grows into the classic conical Christmas tree shape. When the cones are young they emerge purple, which adds an...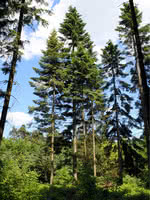 Grand Fir
ONLY AVAILABLE BY CONTRACT GROW
Grand Fir is a large, coniferous evergreen native to the Pacific Northwest of North America. Closely related to the White Fir, this tree has glossy green, needle-like leaves with notched ends. A tall, majestic tree, Grand Fir grows best in drier climates. We...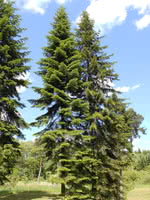 Siberian Fir
SOLD OUT
Siberian Fir is an evergreen tree best known for its strong aroma. This tree's needles are popular for essential oils and aromatherapy. It also grows softwood that is used for furniture and wood pulp. This species is very cold hardy and shade tolerant. This...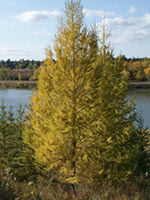 Siberian Larch Oasis
NOT AVAILABLE THIS SEASON
The Siberian Larch 'Oasis' is perfect for shade in the summer and sunlight in the winter as it drops its needles in the fall. A dense deciduous conifer tree with an attractive oval shape and a strong central leader, this larch is perfect in a shelterbelt for...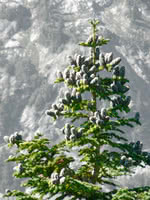 Subalpine Fir
SOLD OUT
Subalpine Fir is pyramidal, coniferous tree often found growing naturally in areas with higher elevation. A lover of cool and moist soils, this adaptable tree bears unique and attractive cones that take on a purplish-black color and grow vertically. Subalpine...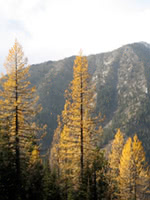 Western Larch
SOLD OUT
Western Larch is a pioneer species that can survive in nutrient poor soil and is found in the valleys and on the lower slopes of mountains in mixed forests. In the warm months, this larch is covered in clusters of soft green needles that turn golden yellow before...